PART ONE – Aug 27 to Sept 7, 2009
Roz and Trond are a couple of middle-aged DINKOBs (Dual Income, No Kids Or Brains). After twenty years together, they decided to quit their jobs, sell their condo and head for South America by motorcycle. Can two of the most unprepared adventurers ever pull it off? Dog knows, but it should be a fun train wreck to watch.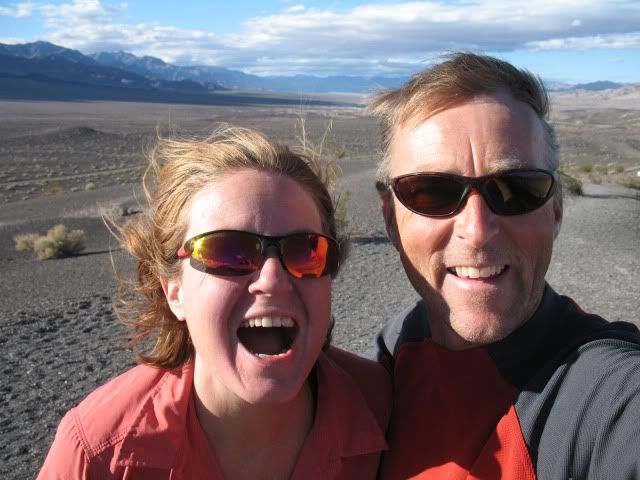 Intro to Troz
I'm Trond, a forty-something year old white guy who, up to a little while ago, was living in Vancouver, BC, Canada. To be blunt, I've been a free-spirit most of my life. I've never held a job longer than a few years as I get bored doing the same thing for too long. The good part of that is that I've enjoyed a variety of cool jobs and experiences. I've been everything from a UN peacekeeper in Cyprus to a bus driver for five-year-olds. Life has always been interesting.
Roz is my wife. Unlike my jobs, I've stuck with her for over twenty years. I can't help it. She put a spell on me a long time ago and I still don't know how to break it. A master office manager, she has worked for film companies, government agencies and more recently, dysfunctional non-profit organizations. While this blog will consist mostly of my incoherent ramblings, she will occasionally chime in with her two cents.
Oh yeah, and to explain the name "Troz"- a long time ago a drunken friend mangled our names and that's what came out. As a collective moniker, it stuck.
The Trip – An idea is born.
We've been trying to get to South America since we first met. In 1991, we managed to get a 30-year-old Land Rover as far as Nayarit, Mexico before its frame began to disintegrate. Despite tripus interuptus, Mexico captured our hearts and we've returned a number of times. Recently we decided to finish what we started and finally go to South America. Only this time it would be by motorcycle. Since Roz had always been my passenger on various touring bikes, I asked if she wanted to ride her own bike this time. So she took a riding course to find it. She loved it! Then we took our bikes camping (http://www.advrider.com/forums/showthread.php?t=369134) and had a gas, so a plan was hatched: quit our jobs, sell the condo and hit the road. It seemed so simple back then. Boy, were we in for a surprise.
Preparation
I thought a year would be enough time to get our crap together, but extra factors complicated the process. Selling our condo involved three months of prepping it for a "show-worthy listing", followed by another three months of showings. Earlier in the year, we had bought tickets for Burning Man, which would be the springboard to launch our trip. While this gave us a firm Sept. 1st deadline, it also meant we had to prep all the gear and costumes we'd need for a week-long freak fest in the desert. More importantly, with only a few months to go before our departure, we were still looking for a bike for Roz – while I loved my '08 KLR 650, she wasn't feeling very comfortable on her '05 KLR. Somewhere in the midst of all this, and while still working 9-5, we had to prepare for a year long journey to South America.
Suffice to say, a few things got missed in our preparations. Like buying a tent. Or mounting new tires (which arrived on the day we left). And perhaps most importantly, taking our fully-laden bikes on a test ride. Departure day (Aug 27/09) was also our condo move out day, so while I loaded up our bikes for the first time, Roz was madly trying to clean the place before the new owner showed up at noon. At 12:15, Roz came down to the parking garage and saw her loaded '05 Suzuki DR650 for the first time. She almost had a breakdown right there. "I can't ride this thing!" I assured her it would be fine and that we'd just take it easy leaving town. She wasn't impressed, but she's a trooper and got on her bike anyway. We both had butterflies of excitement as we rolled out of the garage and said good-bye to our home of the last six years. The dream was finally becoming a reality and we knew life would never be the same.
Ready to say good-bye to our home. Happy on the outside, nervous on the inside.

Too much crap never looked so good.

Where's the kitchen sink?

The Adventure Begins – Vancouver, BC to Burning Man, Black Rock Desert, Nevada
With little sleep and a frenzy of activity to leave the condo, Roz suggested we spend the first night at my dad's place near the border. It was a good idea as it allowed us a short hour-long ride to test the bikes and allowed me time to mount three of the four new Mefo Explorer tires. It was also nice to say good-bye to my dad and step-mom.
The next day we headed for the border and, in the line-up to cross, Roz's bike died. Crap. After a bit of diagnosing, I discovered that the new fuel line and filter I had added had an air bubble in it, preventing gas from reaching the carb. A little tube manipulation later, I got the bike going again and we made it to the border. The border guard asked where we were going and I said the Baja. No point telling him we were also going to the naked drug/booze art fest known as Burning Man – he may have thought we were weirdos (snicker). With a smile, he wished us a good time. As we crossed the border into the States, we both cheered. The journey had begun.
The next few days consisted of getting used to our rides, shopping at REI for tents and gear, and making our way to the Black Rock desert in Nevada. Unfortunately, we had a laptop mishap a few weeks later in San Francisco and lost all our photos from this time period, so – no photos for you! But you know what the Pacific Northwest looks like – green flora, grey skies and mountainous terrain. We turned inland short of Seattle and crossed the Cascade mountains on the Stevens Pass highway and carried on East on US Hwy 2. Leavenworth was an enjoyable stop along the way – a German town that looked like it belonged in the Alps. I had the first of many good micro-brewery beers there – can't remember what it was called, but it was a yummy cold wheat beer.
From there we headed South on Hwy 97 where my new GPS (276C Garmin) finally earned its keep. Coming in late into Yakima, I did a search for accommodations and found the Yakima Sportsman State Park. It wasn't on our map and we never saw any signs on the road for it, so both Roz and I were very impressed with the GPS. The ranger there was a Harley rider, former Navy man and fellow beer snob so we both enjoyed bullshitting with each other.
Hwy 97 took us further south. In Bend, OR at a Best Buy parking lot, we met not one, but two different motorcycling couples who we enjoyed talking to about riding and our trip to South America. We got some good advice on the area and even an invitation to stay at their home, but we were keen to press on. I was amazed at how friendly and helpful everyone we met were. (ROZ: It was also beginning to dawn on us that, at this rate, our ETAs were going to have to be seriously readjusted – by virtue of our mode of transportation, we were destined to attract interested folks who wanted to chat us up – can't say the same thing would have happened if we were driving an RV.)
After four days of riding and shopping, we finally reached Nevada and the Burning Man entrance. It was nightfall and the line up into Black Rock City was over two miles long. But we didn't care – we had made it. We were in stop and go traffic for an hour when another biker told us to cut the line. I tried to explain that we were polite Canadians and we didn't want to ruffle any feathers. "F*ck that!" he said, "This is America. This is how we ride down here." He then ordered us to ride between all the RVs and hippy buses. What could we do? We were in America so we did what we were told. Fun!
We managed to find our gang of friends and put our kickstands down with relief. After a mad schedule that had us go-go-go for the last few months, we could finally relax. It was the first time we had ever been to Burning Man, but our experienced friends were there to show us the way. I can't explain what the next week was like except to say, it was unlike anything I'd ever experienced before. It was like Vegas for freaks, artists and yahoos. I fit in just fine.
Thankfully, many friends took many photos and I've pilfered a few to share. I won't try to explain them. It's one of those times where all you can say is, you had to be there.
Troz hit Burning Man. Let the freaking begin…

I joined an art car called the Board Room Table. You needed a suit to ride. We bellowed at hippies to get a job and told them that their gifting culture was not a sound business idea. Then we told them to clear out because we were privatizing the playa and turning it into a Starbucks. People couldn't tell if we were joking or not. Neither could I.

Seriously, I don't remember a thing.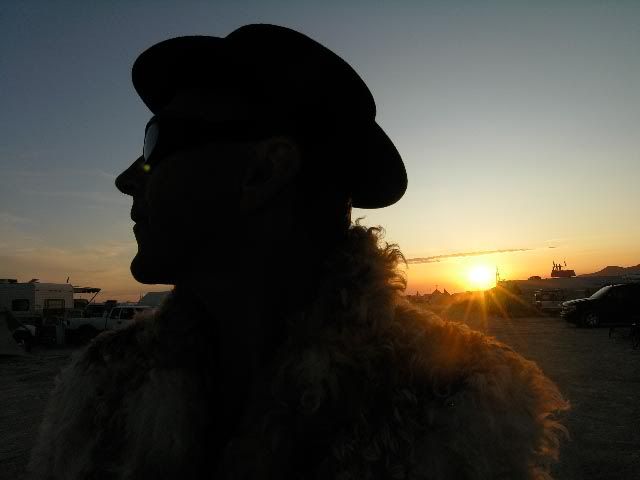 Thanks to Karen for these photos.
END PART ONE
One Response to "1 – Intro to Troz – Departure Vancouver to Burning Man"