PART 6 – Oct 28 to Nov 9, 2009
To begin our vehicle exploration phase, we had to find new digs. As nice as La Quinta was with a pool, jacuzzi and room service, it was way beyond our budget, so Roz quickly found us a cheap, self-contained casita not far from downtown Tucson. We checked out of the hotel, loaded up the bikes (which took a while as we were out of practice) and hit the road again for a short jaunt across town. The weather had been clear and calm during our time in Tucson, but today when Roz had to ride again, the wind cranked up to 15 mph gusting to 25. She couldn't believe it – her nemesis was back. But it reminded her that she still wasn't having fun while riding out of her comfort zone.
The casita was perfect for what we needed – gated secure parking, wi-fi, cable and a fridge for beer. What more could a guy ask for? Oh yeah, there was boring stuff too like a stove, microwave and big sink. Not sure what those are for, but Roz was happy.
Casita (southern name for a concrete cabin)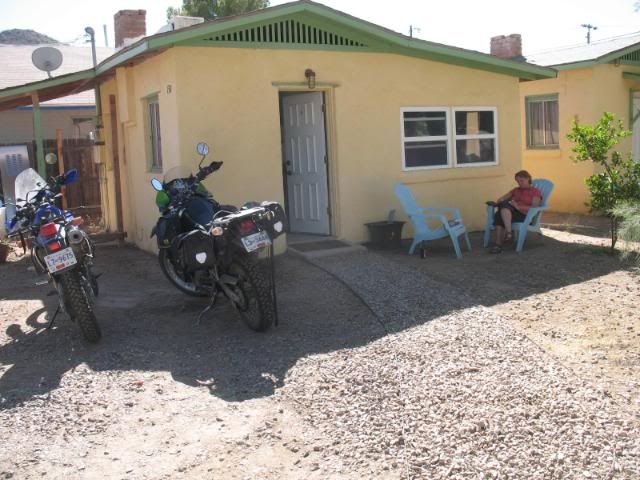 Our toothy neighbor.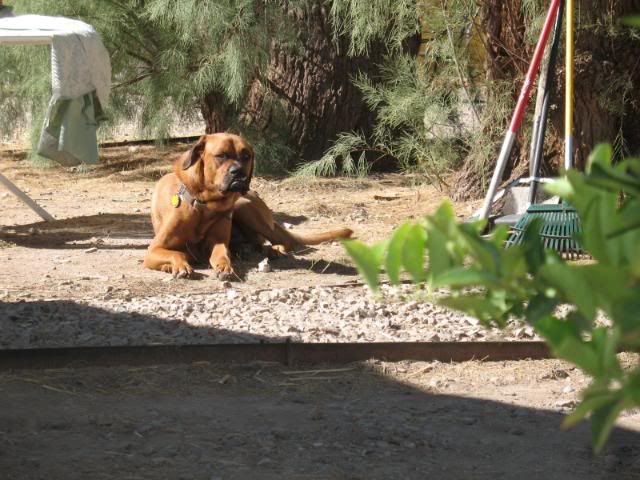 Roz testing out the kitchen machinery. Mmmmmm.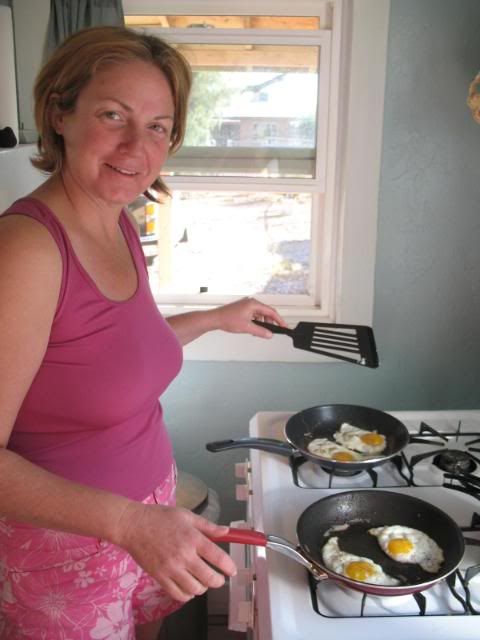 With a home base established, it was time to check out our vehicle options. We hopped on my bike and rode out to Ironhorse BMW of Tucson where we met T.R., an affable salesman who loved his 1200GS. We talked a long time about our predicament and in the end, he suggested that we take a used '07 BMW 1200 Adventure for a 2-up test ride. But not just around the block. T.R. insisted that the best way to check out 2-up touring on the Beemer would be to ride it for four or five hours on both highways and dirt roads. He mapped out a 100-mile loop and the next thing I knew, we were accelerating away on the most beautiful bike I've ever ridden.
Roz and I could not believe how smooth and powerful the bike was. Going north on Highway 77, I opened up the throttle at 65 mph to pass a car and in a flash, was doing 90. Holy crap – this ain't no KLR! It had only been a couple of years since owning an '84 Yamaha Venture 1200, but I had already forgotten that bikes don't have to vibrate you to hell in order to go fast. What a delight. Stopping for lunch in Catalina, Roz and I were both ecstatic about the bike. Two-up riding suddenly didn't seem so bad. As if to confirm our thoughts, a young kid in the Subway asked if the bike out front was ours, "Because it's totally sick." Translation for fellow old farts: I like your bike. Roz and I just smiled. Yup, that is one nice piece of German engineering.
The next part of the test ride took us to San Manuel, which would loop us back to Tucson on dirt roads for abuot 40 miles. At first, the gravel road was pretty smooth and I was surprised at how stable the bike felt two-up at about 50 mph. But then the road got more corrugated and I wished I had brought along my air pressure guage and pump. The hard tires were no fun on the bumps, so I had to slow down to 35 mph. I also wished I had asked T.R. to show me how to adjust the shocks for off-road riding (although later, I realized it was dead easy with a big knob under the seat). As we slowly made our way south, a little 20-year old Suzuki Samurai passed us and the driver gave us a happy beep-beep and a peace sign. Dang – I hate when that happens. Suddenly this adventure bike didn't seem so adventurous.
And then we got to the tough stuff. The East Reddington Road is a 25-mile crumbling track full of loose rocks, sand and switchbacks which takes you up and over a mountain pass. I couldn't believe T.R. wanted me take this road, but as there was only another hour of sunlight, we were left with few options. I have to say, that was some of the toughest riding I've ever done. Two-up on a big bike with highway pressure in 50/50 tires pummelled me, but I was determined not to drop the bike. I had a couple of close calls, but saved us with a quick dab of the foot. At one point I had to pull over and rest. My arms and shoulders were killing me and it didn't help that on the descent, Roz kept sliding into me. With the sun almost on the horizon, we both looked at each other in dismay. What had we gotten ourselves into? I appreciated T.R. wanting us to experience the full-meal-deal on this bike, but this was almost too much. To his credit, we did learn what two-up riding off road on a big bike was like – it was fricking hard!
The sun dipped below the horizon just as we finally got to pavement. I was never so relieved. As we rode back to Ironhorse, I was having some serious reservations about riding two-up into places like the Copper Canyon in Mexico. Fack! It wasn't supposed to be like this. We dropped the bike off, said thanks to T.R. for the informative test ride and hopped on my KLR. My old bike seemed so anemic now. We found Lindy's Burgers on 4th Ave. where we both devoured monster burgers bigger than our heads. The ride had made us both ravenous.
A couple of days later, we went and looked at an '06 BMW Adventure being sold by a fellow ADV rider, Lee. It was a lovely low-mileage model and while sitting on it, all memories of the Reddington Pass vanished. Perhaps we could just stick to paved roads or nicely graded dirt. We had a great gab with Lee and his wife, Ines, and parted good friends. I told him I'd let him know in the next few days what we were going to do.
Fits like a glove. My KLR said it made my bum look big.

The next day we drove out to Ryan's Airfield where we met J.T., who was selling an '87 Suzuki Samurai. He was a young National Guard aircraft mechanic who helped his dad wrench planes when not doing so in uniform. As a former pilot, I loved being at the airport. If money was no object, I'd love to fly to South America, but alas, I ain't rich. We hopped into the cute Samurai and the three of us went for a test ride. J.T. insisted that we check out the off-road capability so he directed me to some desert trails. With the truck in four-wheel drive, we drove through deep sand, washboard ruts and undulating terrain. Roz and I were laughing as memories of driving our old Land Rover came back to us. No wonder that Samurai driver had given us a happy beep the other day – this was fun! And hell, I could be drinking a beer too. I just couldn't imagine riding two-up on the same trails. Dang – I didn't like where these thoughts were heading.
(ROZ: To me, the Samurai test ride was the complete opposite of the Beemer test ride. This time we were both having some reservations while driving on the highway. The tranny was pretty noisy and Trond soon found that 60 mph was about its max comfort speed. Even though it was nice sitting side by side by my sweetie, I was thinking that the Beemer sure would be a smoother, quieter and faster ride on the highway. And then we took it off road. It wasn't until we hit the sand that the light went on for me. I'm telling you, that 4×4 just floated like I was on a giant surfboard. That's when I realized how much more fun I'd have in the Samurai – which I could also drive – rather than passengering on the Beemer. Plus, two-up riding would be tough in this deep sand – something to consider if we wanted to hit some remote beaches.)
J.T.'s Samurai. Fits like a glove too. Hmmm…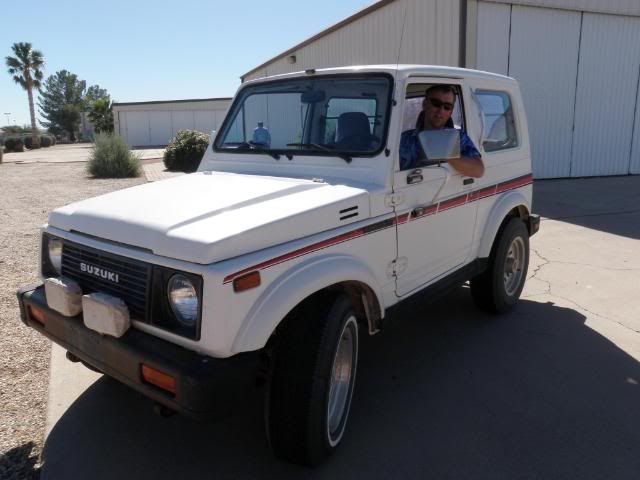 We left J.T. with a big thanks and went home to our casita. It was time for some serious discussions. With a strong drink in each of our hands, we first talked about continuing our journey on our bikes. Roz said that the ride to the casita in the wind earlier in the week had clarified that she didn't want to ride anymore. This trip was supposed to be fun, but she was waking up each day dreading the idea of getting back on her bike. She wished this wasn't so, but it was what it was. I knew she was right. And frankly, I was relieved. During our journey here, there was always an underlying tension inside of me because I was worried about her. Not just about her crashing, but also about the fact that she wasn't having fun. As much as I wanted to ride my own bike, I couldn't enjoy myself if she wasn't too. I guess I've been with her too long to not care about how she's feeling.
(ROZ: It didn't help that Trond was a regular reader of the Faceplant forum so he had a good idea of how bad a crash could be. And I don't think he savoured the idea of possibly having to make that phone call to my Dad one day. Believe me, I wanted to be the brave, yahoo warrior that Trond is, but I've preferred to take the easy path in life, whereas he always looked for a challenge. Different strokes for different folks as the cliche goes. I don't mind being challenged every now and then, but not EVERY single day. We still had to get all the way to Tierra del Fuego AND return to Vancouver. I had to be really honest with myself and admit that there were too many factors involved in riding a loaded motorcycle that caused me more stress than joy. And if I wasn't enjoying myself, what was the point of continuing? The test ride in the Samurai reminded me of how much FUN this journey could be.)
Beer helps any healthy discussion.

So now the question was, two-up on a bike or together in a 4×4 (we had ruled out the flying bat idea). We drew up a list of pros and cons for both vehicles and discussed what we hoped to achieve in this trip. We were both keen to explore places that were hard to get to – places like the Copper Canyon – and we also wanted to volunteer our time to communities and organizations during our travels. It was becoming clear that the Samurai was edging forward in our discussions. I couldn't believe my dream of riding to South America was crumbling before my eyes, and yet, the 4×4 seemed to make the most sense. That Beemer test ride had been such an eye-opener to the challenges of two-up off-road riding and honestly, that wasn't what I had dreamed of all these years. I wanted to ride my own bike hard and fast. If we were going to travel together, then let's at least make it fun. My dream ride would have to come another day.
(ROZ: It seems that almost every decision about this journey has been one of compromise – starting with the choice of dual-sport motorcycles. Yes, the one cylinder engines aren't that great on the highway, but they're pretty good for the dirt. Similarly, we had to concede that if we chose to ride two-up on the Beemer, then it would be a different journey, as we weren't likely to go exploring too far off the pavement. While the Samurai wasn't a bike, it would allow us to ride harder and farther into more remote regions than two-up on a Beemer.)
Roz felt terrible about killing my dream, but I assured her that wasn't the case. We were simply pushing it a few years. Next time, I would ride with a buddy or two while Roz and a friend drove a support (beer) vehicle. We would meet up when we could and then we would all be happy. As it was, I really wasn't as upset about switching vehicles as I thought I would be. We could even make a game of switching vehicles – a different one for each continent. When we got to South America, we could switch to motorized pogo sticks. Anyway, the decision was made – the bikes would be shipped home and sold. And we would buy the Samurai. Were we making the right decision? I wasn't sure.
Two days later, we were the owners of a 22-year-old Suzuki Samurai. It was surreal. I told you this was the wrong way to travel to South America. Seriously, try to sort out your vehicle requirements before going on your journey. It'll save you headaches and heartaches later. (ROZ: At the same time, it pays to have a "Max Flex" attitude while travelling. Or, as Bruce Lee said, "Be like water making its way through cracks. Do not be assertive, but adjust to the object, and you shall find a way round or through it.")
A new addition to the family made the KLR nervous – it knew something was up.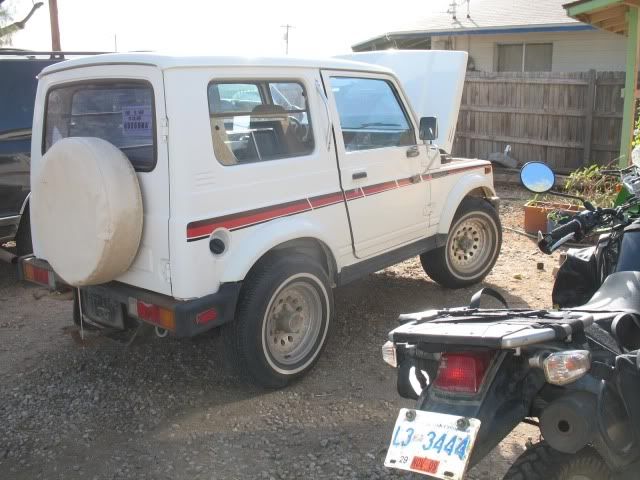 Before I could change my mind, I put a call out to friends to help us get our bikes back to BC. In no time, a truck was lined up to meet us in Chandler, near Phoenix. I had new tires installed on the 'zuki and we rented a trailer to haul the bikes. The only problem was how to get the bikes up on the semi-trailer, but the good folks at Chandler Harley Davidson offered to help us load the bikes with their forklift. And here I thought they'd just laugh at us and our rice burners. I tell ya, motorcycle people are the best people in the world.
(ROZ: So are our friends. Big shout outs to Nigel and Silas for their magical work behind the curtain in Vancouver, arranging for the truck in Chandler and agreeing to pick up and store the bikes in Vancouver. Shipping bikes to Vancouver – $800. Trailer rental – $15. Having friends who come through when you really need them – PRICELESS!)
The day before our trip to Chandler, Roz and I had some final hours with the bikes we had come to know as our babies. While Roz washed them and prepared the paperwork for transport, I removed the communiciations gear and bags. It was a strange day.
These are the last photos of the bikes free. I loved these bikes.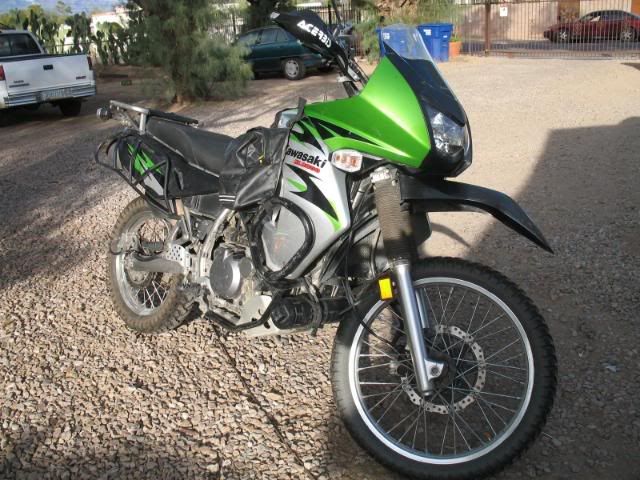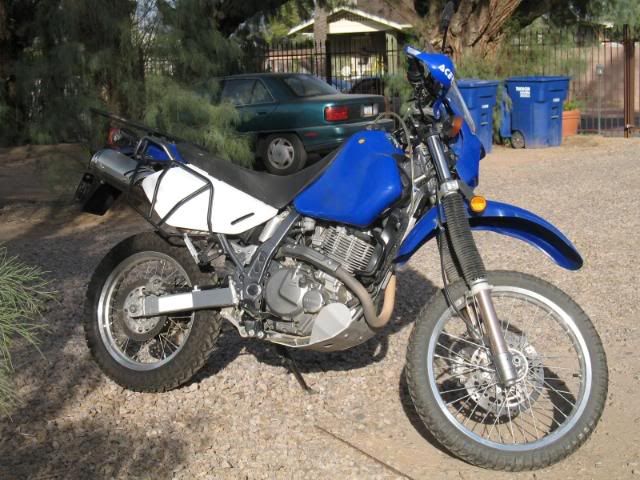 It was a tight fit getting them onto the trailer, but I made it work. Don't let the happy face fool ya – I'm just relieved I didn't have to go and rent a bigger trailer.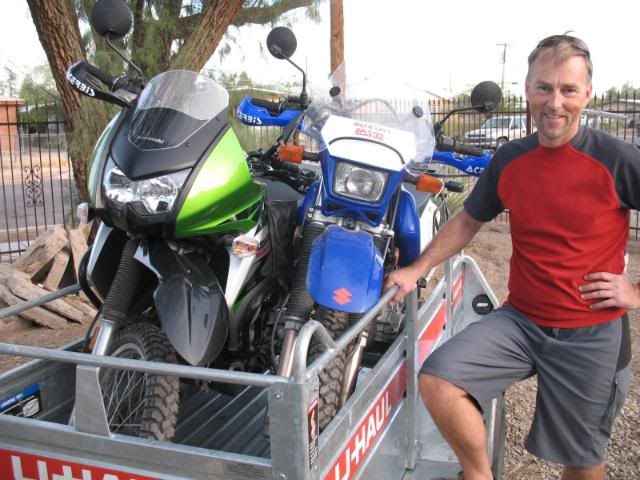 The night before departure, I couldn't sleep. I woke up in the middle of the night and went to the living room to sit in the dark. I spent an hour thinking of our journey so far and some of the highlights, like riding the dirt road in the Saline Valley and the snow of Yosemite. I thought of all the people we met because of our bikes and all the conversations we had with fellow riders. How ironic that this journey that was supposed to let me ride non-stop for a year or two would now turn into the longest time I'd be without a bike. I felt like I was grieving and some part of me deep inside wanted to cry. But after a while, I was finally ready to let it go. I would have my time in the saddle again, but now it was time for a new type of journey. There would still be adventure and challenges – but on four wheels. I went back to bed and finally fell asleep. It was going to be okay.
(ROZ: Before I'm cast as the villain of this piece, let me say that no one does guilt better than me – must have something to do with my Jewish upbringing. I felt, and still feel, so bad for Trond – I knew this had been a dream of his for so many years. During one of our many conversations he remembered that the motorcycle dream had begun when he saw a picture of a solo rider covered in dust and mud. It had always been about the lone wolf adventuring around the world on his motorcycle. Whereas I just wanted to connect with the people, the land, the food, the music of Mexico and Central and South America. I didn't really care how we got there. But I'm glad I gave it a go on my motorcycle and although I'm not proud of "quitting" the bike, I still didn't want to quit the journey. I count my blessings that I have such an incredibly understanding, flexible partner. He was able to take his loss and turn it into a new adventure. When I told Trond how bad I felt that I took away his motorcycle, he replied, "But you gave me a Samurai. I've had a hard-on for those since I rode in one in Australia in 1987″. Is it any wonder that I'm still crazy in love with him after all these years?)
Here's the photo Roz is talking about of the dusty solo rider that has hung on my wall for years. I think it's from an old BMW brochure for the 1150GS. I still love it.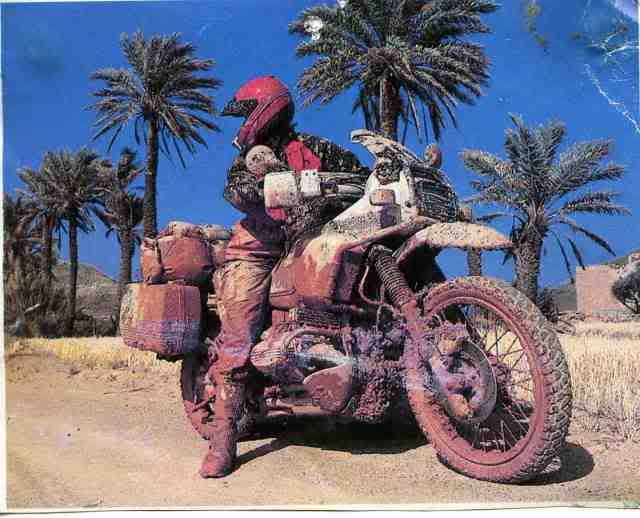 We woke up before sunrise and were on the highway after a quick coffee. I kept looking at the bikes in the mirror and expected to feel melancholy, but instead, I was uplifted. These fine steeds that had served us so well would go to new owners and would hopefully continue to have more adventures. I quietly thanked them for taking care of us for over 3,000 miles.
Within a couple of hours we made it to Chandler and chowed down at Denny's.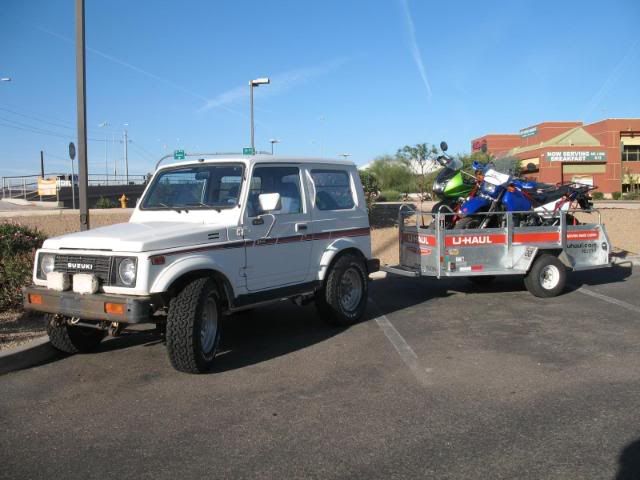 Shortly after, we met our truck driver and his semi at the Harley dealer. Aaron, from the service department, used a forklift to get our bikes onto the trailer using metal skids. Very easy. I thanked Aaron and gave him and his staff a case of Bud for his efforts. He said it wasn't necessary, but I insisted. Who would have guessed that my motorcycle trip would end with me giving thumbs up to a Harley dealer? Journeys have the amazing ability to teach you the best of lessons – namely, never judge a rider by his ride.
Aaron of Chandler Harley Davidson helping us out big time.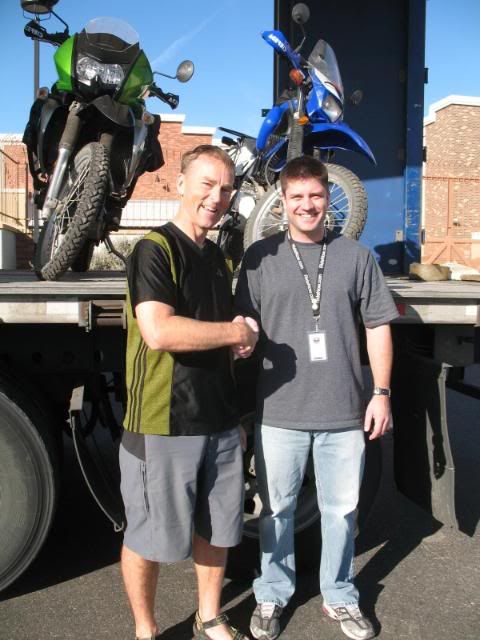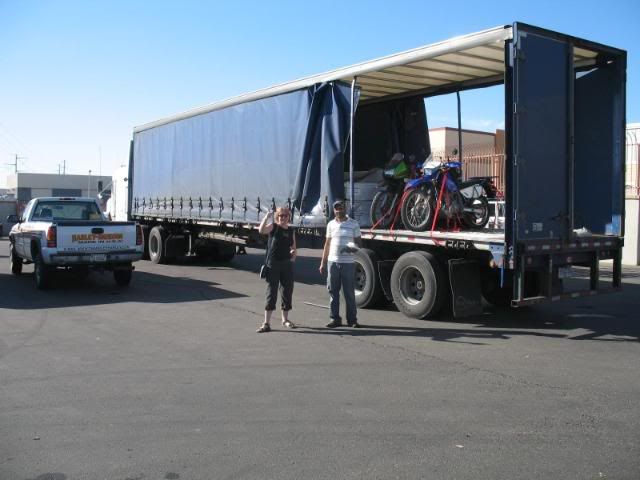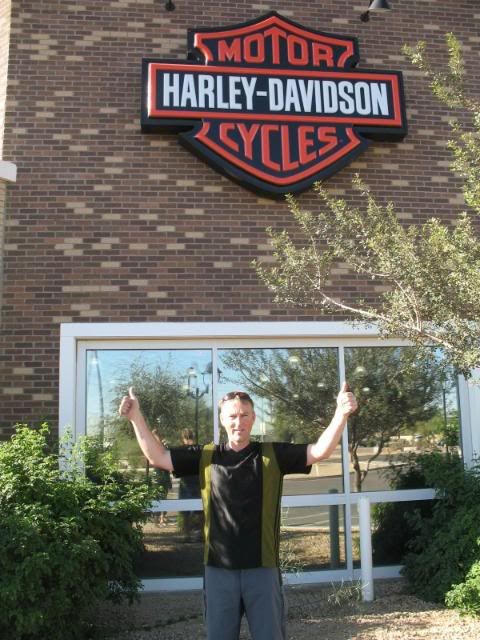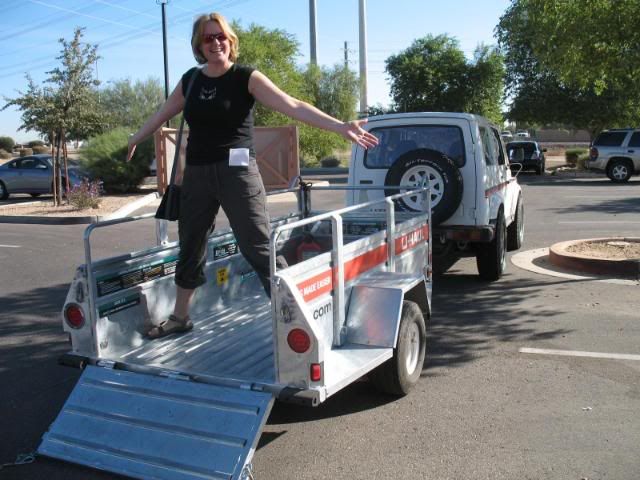 As the truck pulled away, I whispered a quiet good-bye. And now a new journey begins. Unfortunately, this also means the end of our ride report on ADVrider. This perhaps is the hardest part of changing our mode of transport. For years, the ADVrider community has been my inspiration and my teacher. I can't tell you how many hours I spent pouring over ride reports and learning about my bike from fellow riders. Yes, Roz and I will maintain a blog elsewhere, but it just won't be the same without you ADVrider guys and gals on board. I really did want to give back to the community that gave so much to me, but I promise, I'll do this trip again, and next time, I'll go all the way on two wheels. (ROZ: And I'll be cheering you on the whole way!!!!)
Thank you my friends and fellow riders – you're the best!
(ROZ: And thanks to everyone for your encouragement and belief that I can do it. Unfortunately, I just wasn't enjoying the riding enough to sustain my "can do" attitude. For what it's worth though, I have a new appreciation for all you crazy FFs and the utmost respect for any person – male, female, young, old – who makes the brave decision to load up a motorcycle and take that journey on two wheels. You all made it look so easy.)
For those interested in following a (yawn) drive report, feel free to join us at: http://www.contactpictures.com
(ROZ: Don't listen to Trond. While it may not seem as adventurous as riding a bike, I have no doubt that a wealth of adventure awaits us full of remote beaches, unique communities and encounters with more naked people. I hope you'll join us.)
Cheers!
Trond (and Roz!!)
P.S. Don't unsubscribe from this ride report just yet. I'll be posting a compilation of videos taken during our trip here soon. And if during our travels we rent a motorcycle (or two), I'll post up our ride reports here as well.
See ya!

END OF PART SIX

17 Responses to "6 – Decision Time"