PART FIVE – Oct 6 to Oct 27
Remember when I told you about Charles Manson being a regular visitor to the Saline Valley Warm Springs in Death Valley? Well, Saw Jim sent me this picture the other day and I just had to share. (He's the dude who's been going to the springs for over 50 years and told us about Manson). That's Charlie on the right with Squeaky and another one of his girls next to him. Kinda creepy, but there ya go – the world can be a creepy place at times.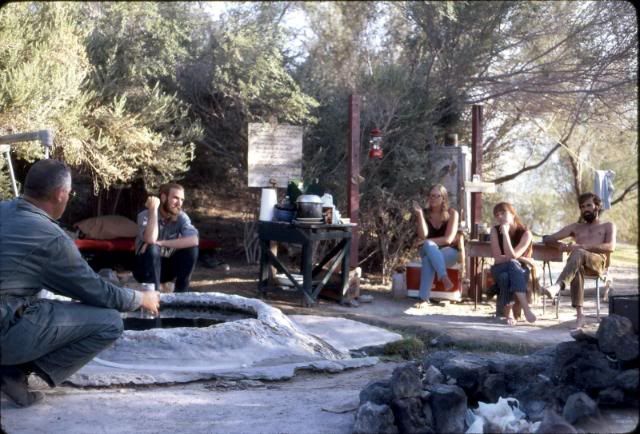 While I'm backtracking to the Warm Springs, Roz insisted that I share my 'fraidy cat story. (ROZ: Only because it's one of the few instances in our 20 years together where I was braver than Trond – which ironically enough, scared the hell out of me.) One evening just after sunset, we decided to go soak in the Sunrise pool, a lovely tub out in the open that's perfect for stargazing. Perfect also because no one was there We slipped into the water and went oooooh and aaaaahh, but it soon became apparent that we were not alone. Turns out this is also a favourite hunting ground for the local bats. Now I don't mind the odd bat swooping down for a meal in front of me, but when there's a dozen or so, I start to get nervous. My thinking is that one or two bats can manage to stay out of my hair, but when you get a squadron out there, there's bound to be at least one bad flyer. To complicate matters, they were flying straight at us before veering off at the last second. And then one lightly brushed Roz's head as it zoomed by. She laughed and told it to bug off. She was more annoyed than scared. But I had to turn around in the tub to not get freaked out. If I don't see them, they're not there, right? So I spent the night ducking blind rodents while Roz had a good laugh at my expense, periodically chiming in with a "I can't believe you're such a wimp about bats". I tell ya, I get no respect!
Back to our story…
TO TUCSON – A town too far
Having left Death Valley, our plan now was to get to Tucson to meet up with some of my family. My sister from New Zealand was flyng in while my brother and his friend were driving in from Vancouver. We spent a night in Baker (ick!) and then, trying to avoid interstates to get out of California, we got on to Hwy 127 and went south through Mojave National Preserve. It was hot, but beautiful, and with the road mostly deserted, Roz was happy.
Mojave magic.

By the time we reached Twentynine Palms we were hot and hungry so we chowed down at a Denny's. Back on our bikes around 3:00 pm, we hoped to get to Parker, Arizona that afternoon. We were a half-hour out of town when Roz called me on the comms to say that her front wheel felt funny. I suggested that we find a safe place ahead to pull over, but before I could finish, I saw she had already done so. Something was wrong. I turned around. As I pulled up alongside her, she told me that her bike had gone nuts when she tried to slow down. Looking down, I saw that her rear tire was flat – again. Crap. She was pissed. Since the temperature was in the mid-90s, I moved her bike to a nearby abandoned house to take advantage of some shade.
Here we go again.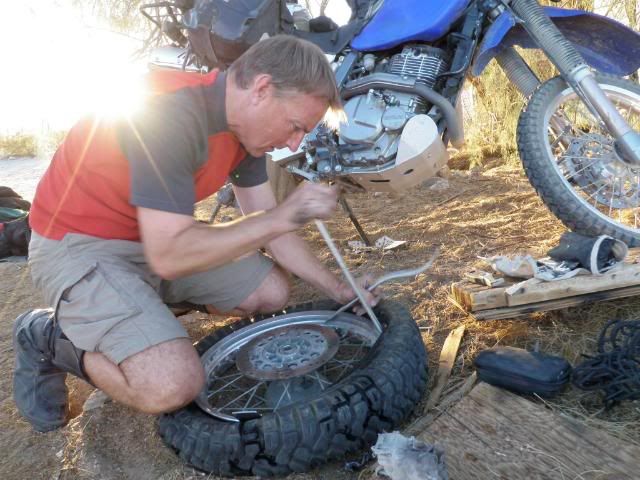 I had her rear tire spooned off pretty quickly and soon discovered a hole worn through the tube near the same area as the Death Valley flat. Looking inside the tire, I saw something I didn't see the first time – a one and a half inch split. The rough edge of the split had worn through the replacement tube and now I was out of tubes. Luckily, Twentynine Palms was a fair-sized town with a military training base so I was confident it would have a bike shop. In true gentleman style, I left Roz with her bike and raced back into town to find a tube. Good news was that I found a bike shop. Bad news was that they had just sold their last big 17″ tube – d'oh! But they did have a narrower 17″ tube so I bought it along with a couple of cold sodas. Then I spent a few minutes in the parking lot shooting the shit with a couple of riders before I remembered that Roz was waiting for me.
I raced back to her and quickly got the new tube back on the bike. This time I put a few layers of duct tape on the inside of the tire to prevent the edges of the split from rubbing the new tube raw. I would have preferred to get her a new tire, but the bike shop had nothing her size. By the time I finished and we were ready to go, it was almost dark. One of our rules was not to ride at night so we turned around and returned to Twentynine Palms to find a motel. California was determined to hold on to us a little longer. But we were in good spirits. We walked around town, revelling in the fact that we were in shorts and sandals in October. We could get used to this desert living.
The next day we left early to beat the crazy heat, but it didn't help. By 10:00 a.m. it was crazy hot again. But we didn't care. We were determined to get out of California and pushed on through the furnace-like desert.
Early morning in Twentynine Palms.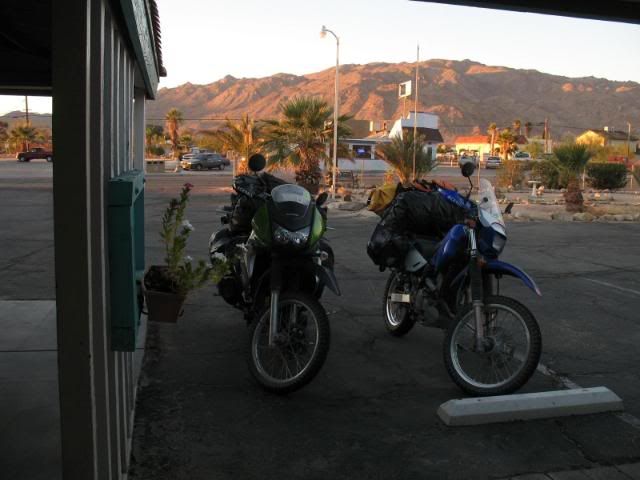 Heading East on Hwy 62. Hot hot hot!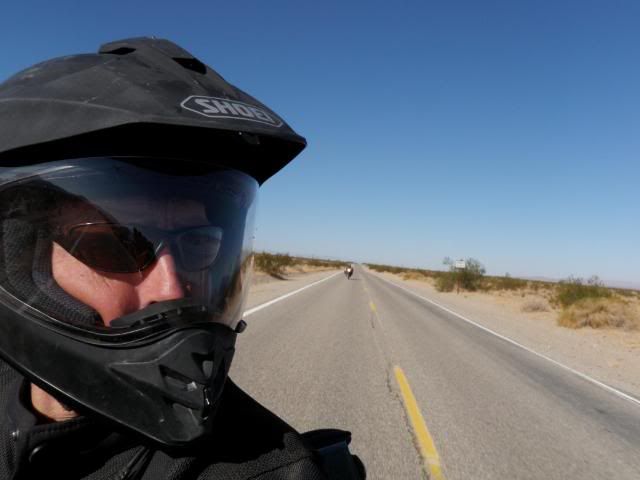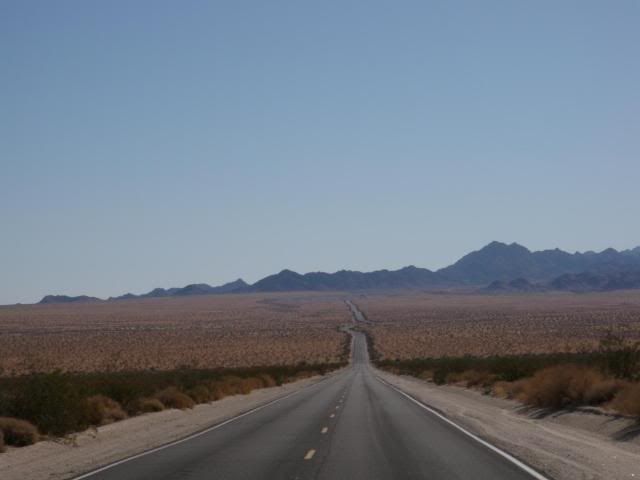 What a relief to finally ride over a hill and spot the greenery of Parker. We crossed the Colorado River with a cheer and then turned north on Hwy 95 to find a place called Buckskin Mountain State Park. A couple we had met in Death Valley had recommended it and we weren't disappointed when we found it. Situated on the Colorado, the park was lush with big, shady trees and surrounded by towering red granite moutains. Roz and I set up camp and had dinner in Parker that night. We spent a couple of days at the park swimming in the cool, refreshing river (avoiding the speeding jetskis), hiking the hills and enjoying a respite from hot riding.
Buckskin Mountain State Park on the Colorado River.

The river was sooooo refreshing.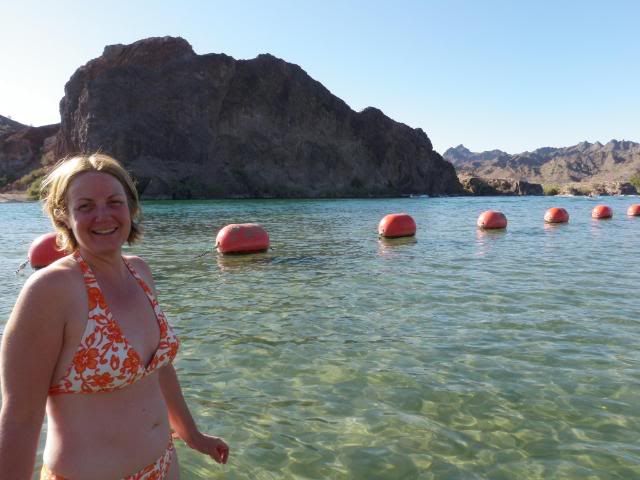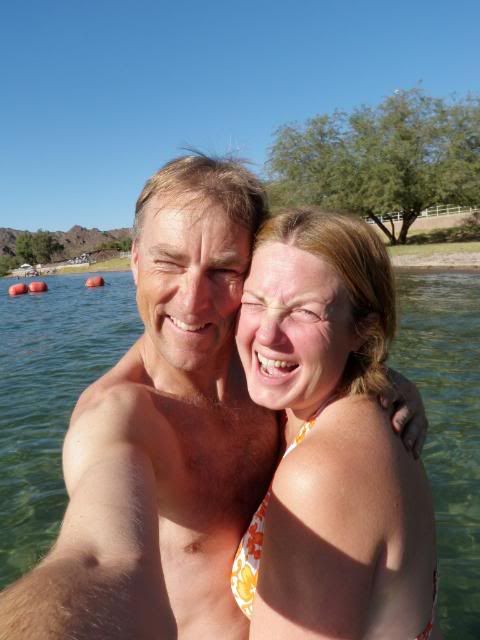 Some hiking shots. An old copper mine – it looks deep, but only went 10 feet in.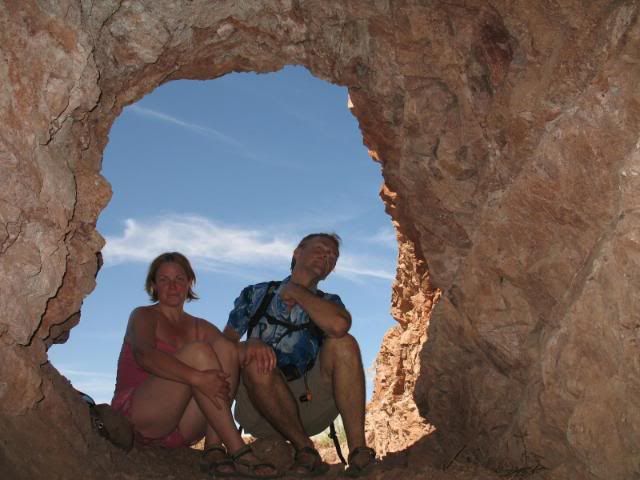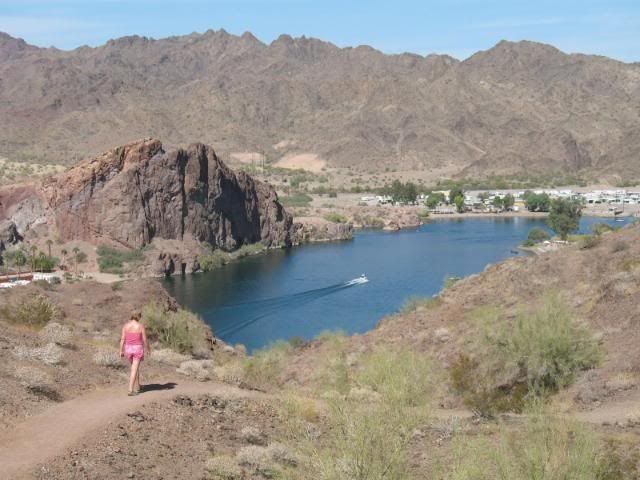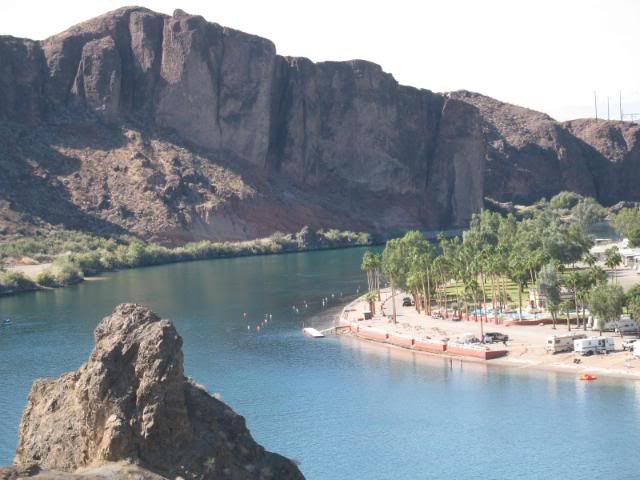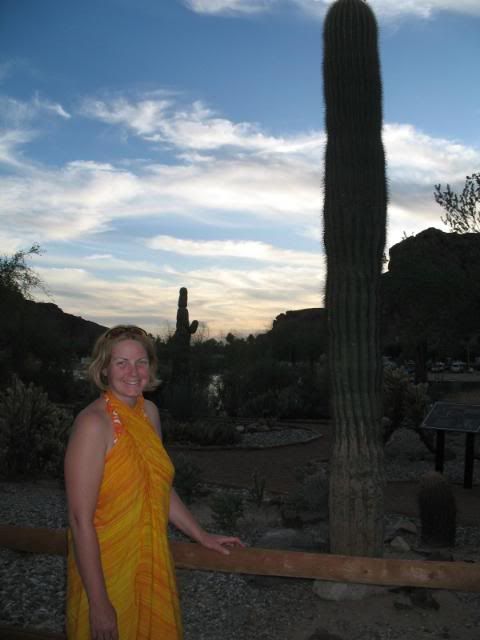 Road kill!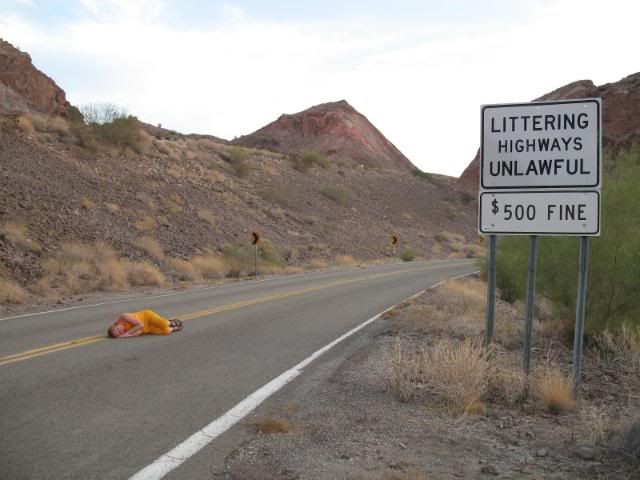 No, we weren't being careless. This road was actually closed.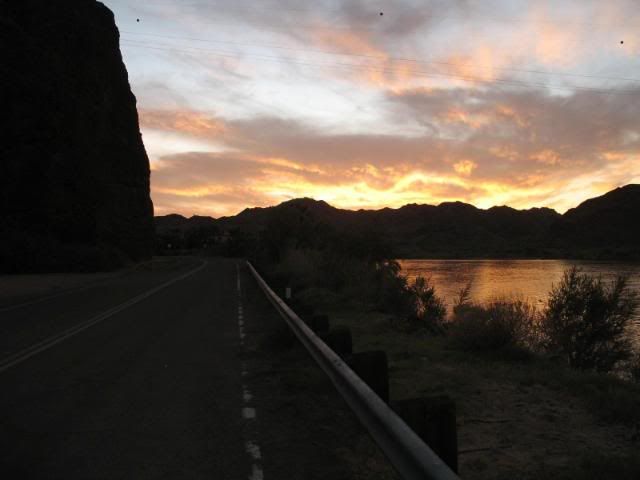 This was the only traffic on the road.

We even bumped into Mark and Laurie, the couple who had recommended this park to us in Death Valley. I enjoyed many beers with them discussing motorcycles as they both rode BMW GSs (800 and 1200) when not RVing. You meet the nicest people on a motorcycle!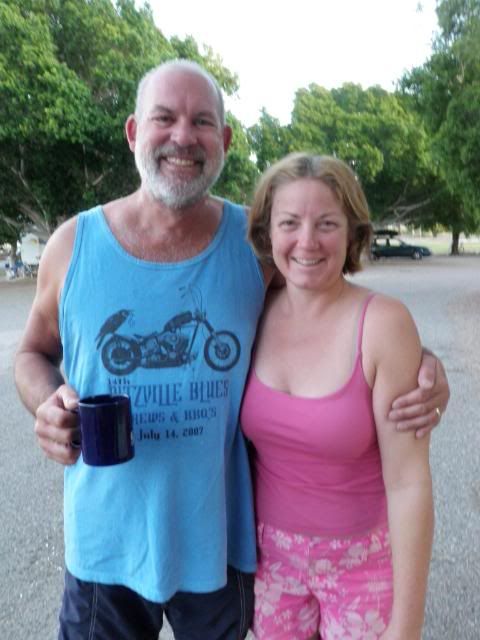 When we left Buckskin Mountain State Park, we actually got on the road just after sunrise – a new record for us lazy Canucks. The forecast was for another day in the high 90s so we weren't messing around. Here I enjoyed taking some cockpit shots with the long shadows.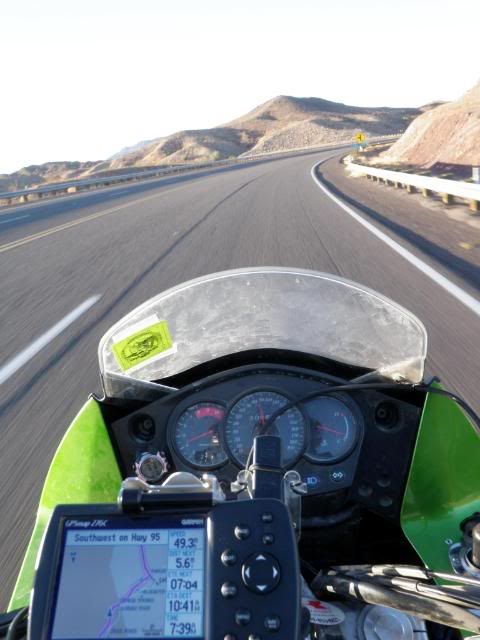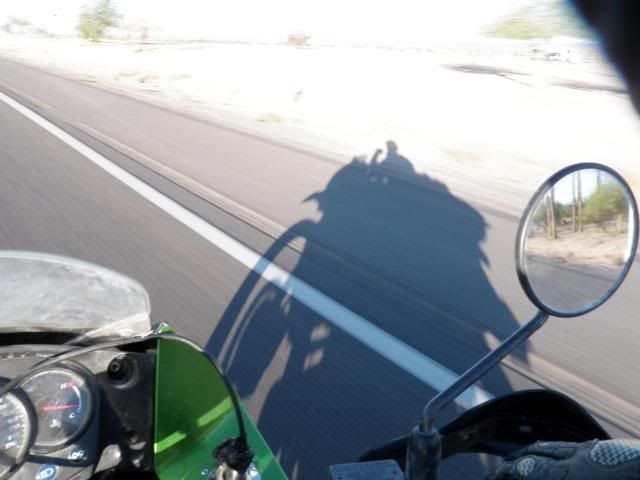 An hour out of Parker on Hwy 72, just past Vicksburg in the middle of nowhere, Roz got her third flat. First she was scared, as she almost dumped her bike while travelling at 55 mph. Then she was angry and fed up. She had had it and I couldn't blame her. If I was her I would have blown up my bike and flagged down the next Greyhound. (ROZ: Thank dog, my aversion of interstates had guided us to this seldom-used highway. I shudder to think how I would have handled a flat tire going 60 mph on the interstate!) I pushed her bike across the road to a shady grove and quicky removed her wheel (I sure was getting good at this!). Once the tire was off, I saw that the duct tape had worn through – I thought that stuff could fix anything!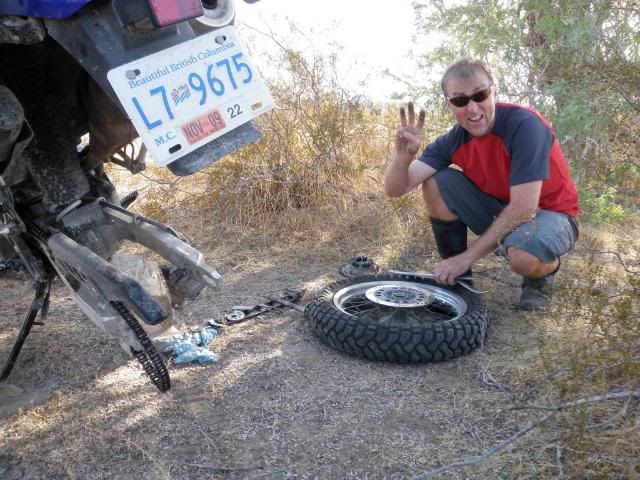 It was too hot to leave Roz alone in the desert this time, so I took the gear off my bike to make room for her and hoped that no one would steal our gear or her bike while we tried to find a new tire. Roz left a note on her bike: "Gone to Parker to get a new tire – please don't touch the bike." In Canada, thieves are very polite and would leave the bike alone if we asked them to, but I didn't know how effective a note would be here. All I could do was hope that the bike was off the road enough not to be noticed by the infrequently passing traffic. I strapped Roz's wheel onto my bike, grabbed important documents and the netbook from our pile of stuff and hit the road.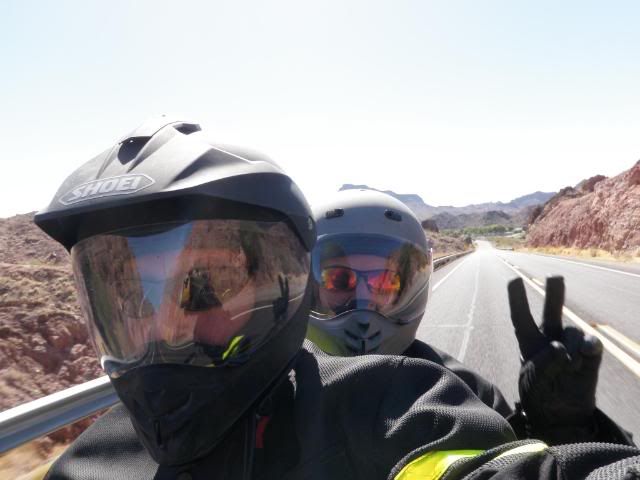 An hour of scorching heat later, we found the Parker Yamaha dealer, but they didn't have any 17″ tires as dual-sports weren't very popular in Arizona. We used their phone to call all the bike shops in nearby Lake Havasu City. After four shops said they had nothing, Tom at the Suzuki dealer said he had some tires that might fit. Forty five minutes later, we were looking at his 17″ tires – for a V-Strom. It looked way too wide to fit the DR650 and he agreed. Realizing we were between a rock and a hard place, he offered to try something. He got a heavy duty rubber patch and glued it onto the split inside the tire. It wasn't ideal, but unless we wanted to leave Roz's bike at the side of the road while he had a tire flown in the next day, it would have to do. We rode quickly back to Roz's bike as the shadows were getting long. Lo and behold, the bike was still there – as was our gear. Relieved, I put her wheel back on and we cautiously got back on the road.
Who needs a centrestand when rocks will do?

We were totally beat from the day of hot riding, but we refused to go back to Parker. We'd take our chances with whatever we found East in the final hour of daylight. At this point, we were ready to camp or motel anywhere. Fortunately, the angels were back on our side and delivered us to the "blink and you miss it" town of Salome, which not only had a motel, but two restaurants. As we chowed down on dinner, we shook our heads in amazement at the day we just had. I thought motorcycling was easy, but this sh*t was hard. And yet, I couldn't help but smile. Rozzy had got back on her bike despite three flats and didn't give up. No matter what happened in the next few weeks – whether we switched to one bike or not – I'd always be proud of her for riding 3,500 hard miles through America. And I told her so. We slept well that night.
Welcomed relief in Salome.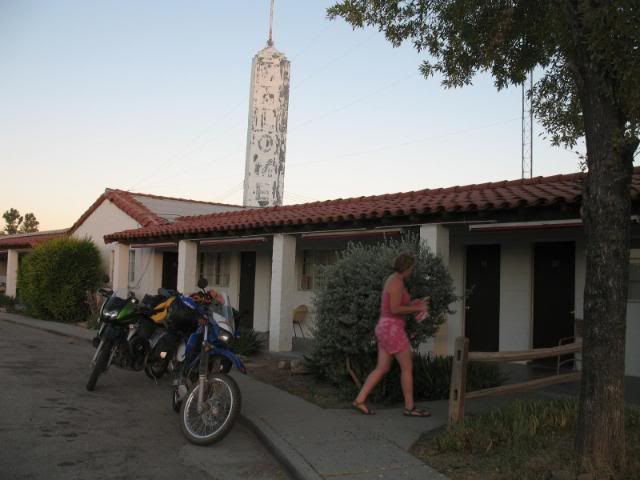 The next day was a joyful ride to Ajo as we avoided interstates and zig-zagged along country roads and through small towns. The traffic and wind was light, the sky a lovely blue, and Roz's rear tire maintained a steady 30 p.s.i. I know because I checked every couple of hours at her request. I can't say I blamed her. We rolled into the very hispanic town of Ajo and saw our first road sign to Mexico. For some reason, this lifted our spirits. We could almost smell the burning garbage and rotting cows. Mmmmmm …. Mexico. We lunched on Mexican food, found a motel and hung out in Ajo for two days.
On the road to Ajo.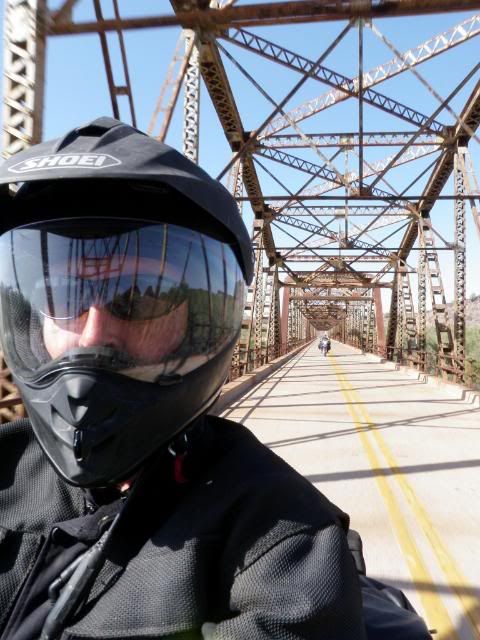 Memories of Ajo. Blurry memories.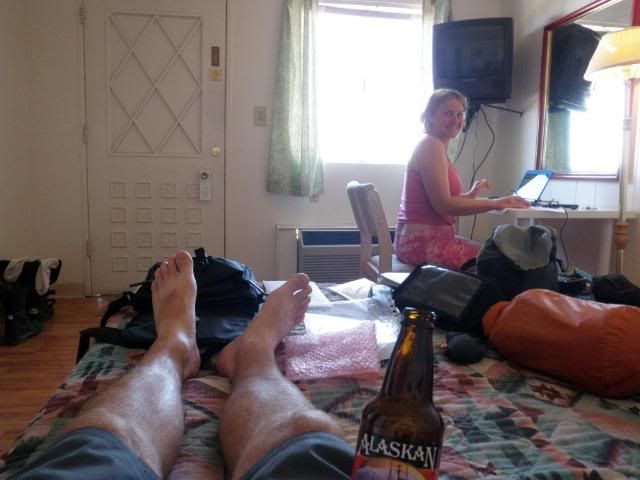 When we left Ajo, only a few hours away from Tucson, I was feeling a little melancholy. This was perhaps the last leg of us riding together on separate bikes. I told this to Roz, but she insisted we don't think about that and just enjoy the ride. That was easy enough to do as Hwy 85 went through Organ Pipe Cactus National Monument. We were treated to stunning views of distant jagged mountains and an abundant variety of cactuses on both sides of the road. I even saw a road runner sprint across the highway – could a coyote and an Acme product be far behind?
Within a couple of hours, Tucson appeared on the horizon and in no time we were in a city again. It had been a month since we left San Francisco and this was the first big city we'd seen since. I can't say I really missed them. We found our luxurious hotel and met up with my brother and his friend. Then we picked up my sister from the airport and in no time, the beer was flowing and all thoughts of travel vanished. We were in family mode and very happy to be together again.
It wasn't as nice as our tent, but it would have to do. My sister Linda on the right.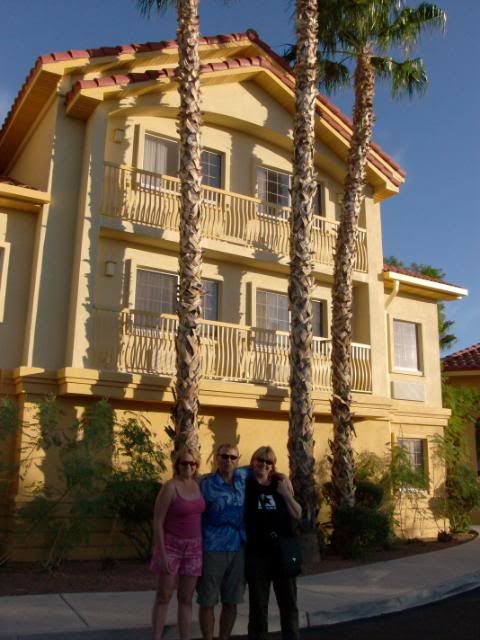 One big dysfunctional family – and loving it. Brother Kris next to me.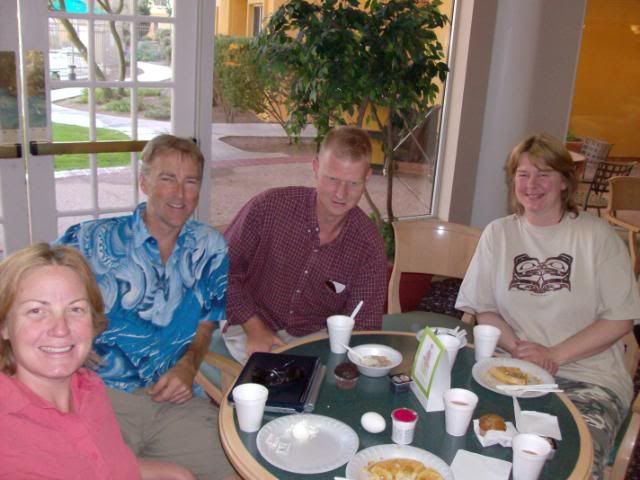 The week was spent lounging around the pool, eating and drinking. We did manage an outing to the Arizona-Sonora Desert Museum which was quite a spectactular place.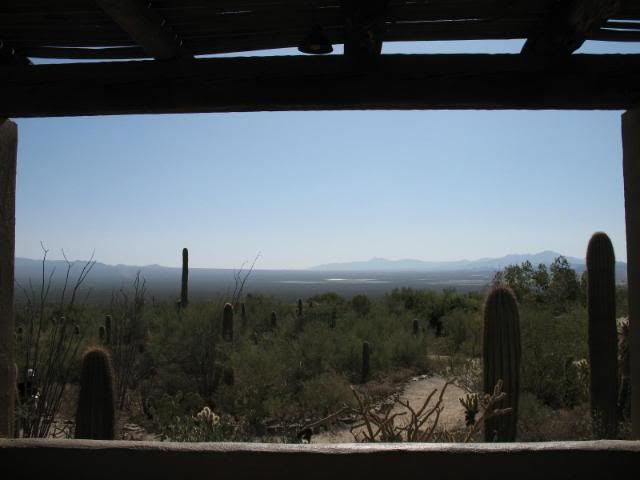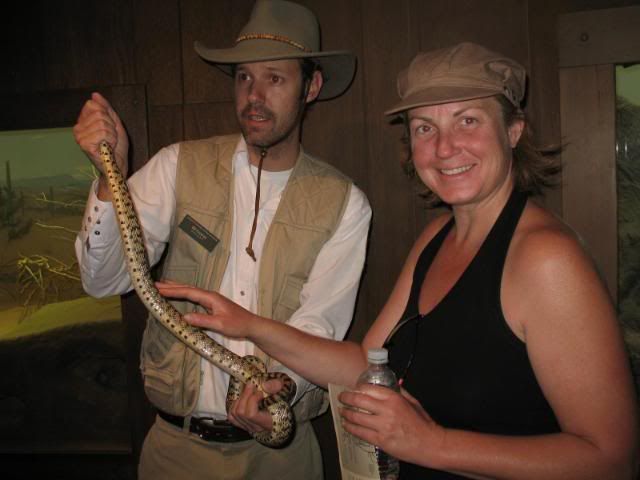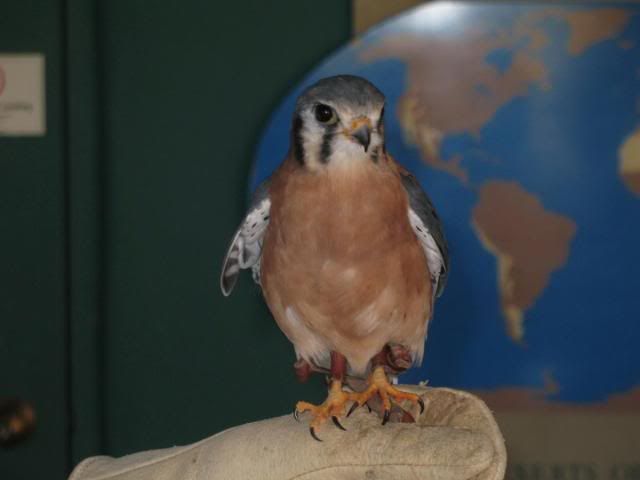 But all good things must come to an end and, all too soon, we said good-bye to the siblings.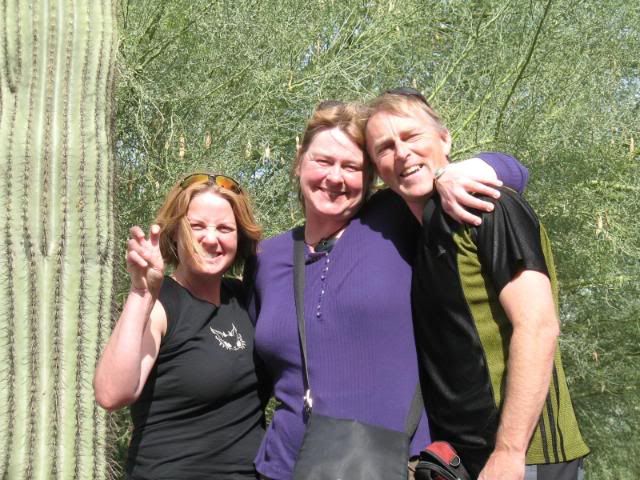 With everyone gone, Roz and I felt a little sad, but it was time to return to our journey. The question was, what kind of journey was it going to be? Would Roz keep riding her bike or would we find a bigger bike to go two-up on? Or would we forget bikes altogether and travel by car? How about by bus? Or giant flying bat? At this point in the game, anything was possible. All we knew was that we had to keep going south.
END OF PART 5
2 Responses to "5 – Death Valley to Tucson"