PART FOUR – Oct 6 to Oct 15, 2009
Okay, it's time for me to 'fess up. While reviewing this blog, Roz commented that I seemed to remember all of her challenges, but somehow forgot my own. So without further ado – some of my finer f-ups.
On day one of the journey, while Roz wasn't around, I tried to get on my bike in our underground garage. My usual technique for mounting a fully loaded bike is to kick my leg out karate style over the seat and then hop over on one leg onto the bike. However, I had never tried that before wearing my new bulky Motoport pants. When I kicked my leg out, my boot didn't clear the seat and it got hung up instead. I fell backwards with a thud on the concrete (good thing I had my helmet on). To complicate matters, I had knocked the bike a little and it teetered, threatening to fall over on me. Shrieking like a little girl, I jumped up and saved it before the bike passed the point of no return. Phew! That would have been classic to get crushed by my own bike before even starting the journey. Why I told this to Roz afterwards, I don't know. (ROZ: Cuz you're such a HAM – you'll do anything to make me laugh – even tell me a humiliating story that nearly had me wetting my pants).
On day two of the journey, waiting in line for the border crossing into the U.S., I just about dropped my bike, but managed to just save it. These things are heavy!
And then, on the side of the road while airing up our tires just after we left Burning Man , I somehow knocked my bike over into Roz's bike. Luckily, it didn't knock hers down, but I did put a dent into her oil cooler.
Now to even the score a little, I will share the funniest drop. Funny because this time Roz did it. North of Bend, OR, I pulled over to the side of a quiet road to have a word with Roz. She pulled up to the side of me, but discovered she couldn't put her feet down. Eeek! Her bike fell over onto mine and then we both fell to the ground. FACK!! A guy on a Harley pulled up to see if we were okay, and when he saw that we were, he roared off. Thanks for nothing buddy! A few seconds later, a couple of dudes in a truck pulled over and helped us pick up our way-too-heavy bikes. Thanks guys – we appreciated it.
And now, back to our story.
When the going gets tough – the tough find a hotel. Trip planning inside the Mammoth Lakes Econolodge, after a well-earned hot tub and a delicious dinner.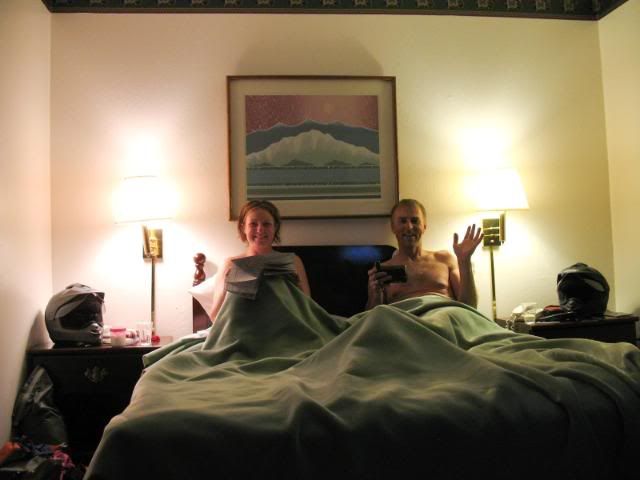 We woke up in Mammoth Lakes with frost on our bikes. Glad we were hoteling it. We put all the liners into our Motoport riding gear and hit the road. We were nice and toasty for the first hour, but by the time we rolled into Bishop for lunch, we were getting too warm and had to lose our liners. Bishop was a quaint, small town with stunning views of the Sierra Nevadas to the West and the White Mountains to the East. Outside a motorcycle store, where I picked up some oil for the KLR, I spotted an older fellow scoping out our bikes. He was an avid dual sporter and had both a quad and an XR-650 in the trailer behind his camper. His name was Roger and as soon as we told him we were headed for Death Valley, he began pulling out maps to show us the must-see spots. After an hour of yakking, he generously gave us his book of California desert off-road destinations. Then when he discovered we hadn't visited the famous Erick Schat's Bakery in Bishop, he insisted we check it out with him. Always on the lookout for good fresh-baked bread, we happily agreed.
Another couple of hours passed at the bakery eating ice cream and discussing politics. When it was obvious that we wouldn't be going much farther that day, he suggested a lovely campground just south of Bishop. We parted good friends and only afterwards realized that we hadn't exchanged emails. D'oh! At this rate, it was feeling like we'd never leave California, let alone the U.S. Luckily, we really weren't in a hurry – we truly had the luxury of time to enjoy the company of so many interesting people. Everyone we've met has been so nice and helpful. As a closet lefty (even if I was a Canadian and U.N. soldier), I never thought I'd say this, but during this trip, I have come to love the American people. Despite the politics of their country, deep down most of them are good, caring people. Sure, there are some dipshits that I'd like to backhand, but I think I could find those types anywhere in the world.
Camping near Bishop.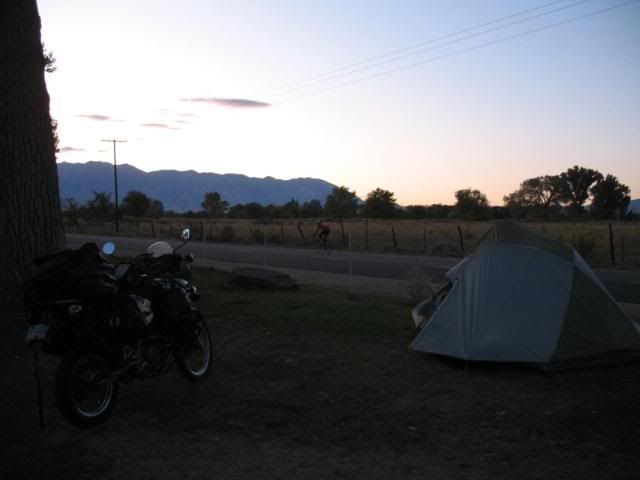 The next day we entered Death Valley from Big Pine. On the advice of Roger, we took Hwy 168 east to the Saline Valley Road – a rough, dirt, washboard road that pummelled our kidneys. But we endured the ride because thirty odd miles down this hundred mile road was a little oasis called the Saline Valley Warm Springs – a clothing optional area of hot tubs. Renown for its eccentric nude characters and its lovely stonework tubs, this place was heaven on earth – to us anyways, but then again, we don't need much excuse to drop our drawers.
Roz on Hwy 168 looking for the Saline Valley Road.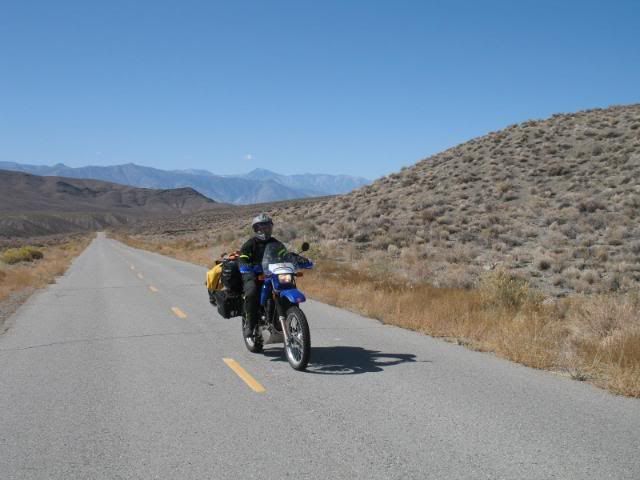 We soon found it.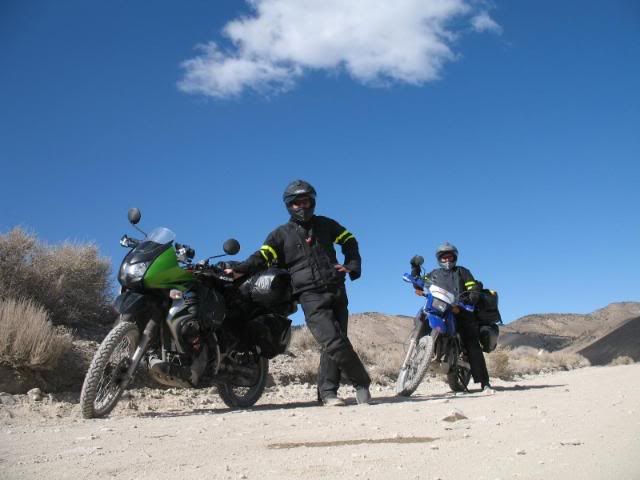 Tires got aired down…

…and we hit the road. So beautiful.

The next few days were spent in blissful joy. We met several old-timers who had been coming there for over thirty years. A fella named Saw Jim (everyone there had some kind of moniker) had been coming to the palm-tree shaded springs for over fifty years! The place was full of interesting history (Charles Manson used to frequent the pools) and beautiful animals. A trio of coyotes came around most mornings for scraps while a couple of wild burros would check out new visitors. The Ranger, Lizard Lee, maintained a small patch of green grass under the palm trees. It truly was an oasis to lay on that grass during the hottest time of the day. And the stone work by dozens of people over the years made for a strikingly beautiful natural spa. (ROZ: Just when it felt like we were thousands of miles from "civilization", a couple of extremely low-flying jet fighters would scream overhead – practicing their maneuvers from the nearby airbase. I found them excrutiatingly loud and annoying, but Trond loved it.) What can I say – it's not often you get to watch F-18′s scream overhead at tree-top height as they hit their after-burners. Cool!
Are those palm trees in the middle of the desert?! Yup.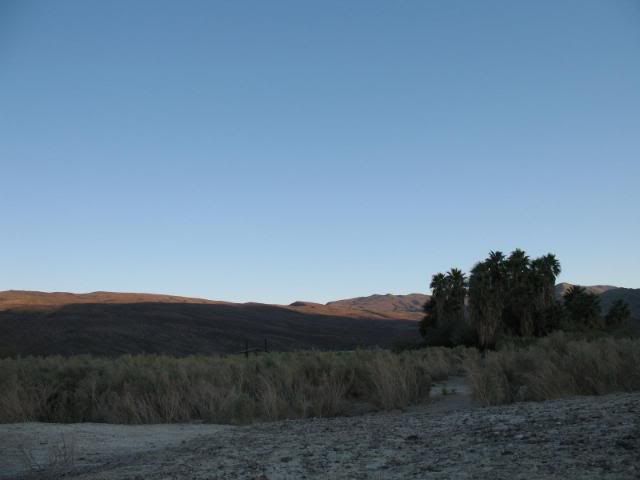 Our camp…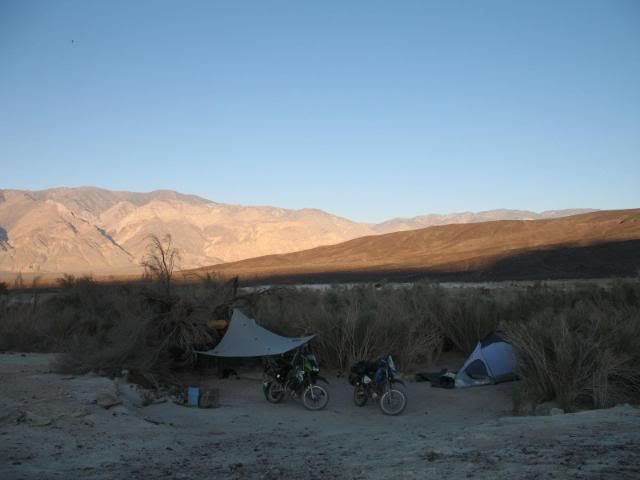 …our views…

…and neighbours.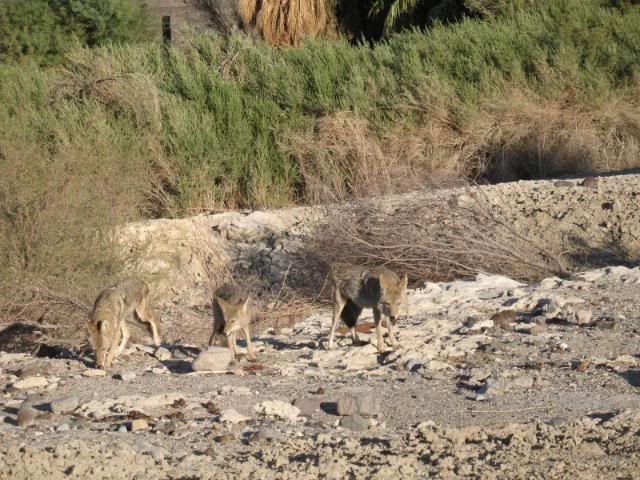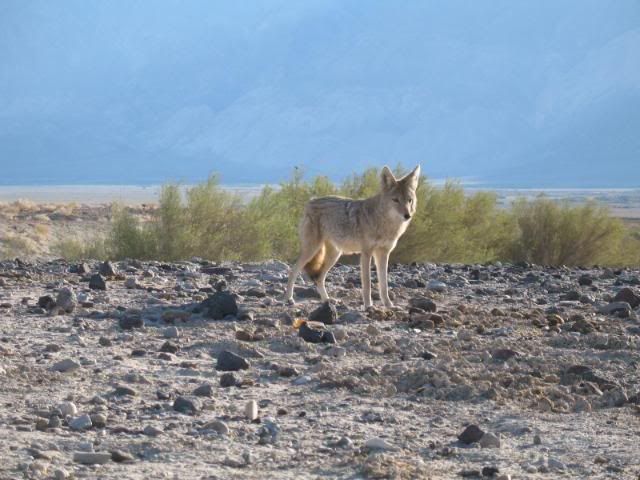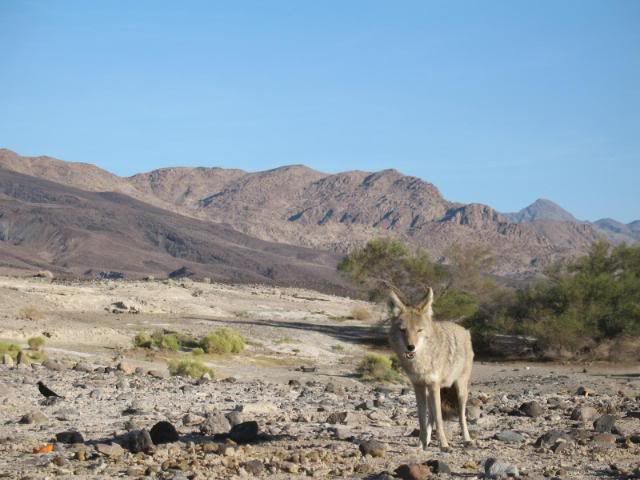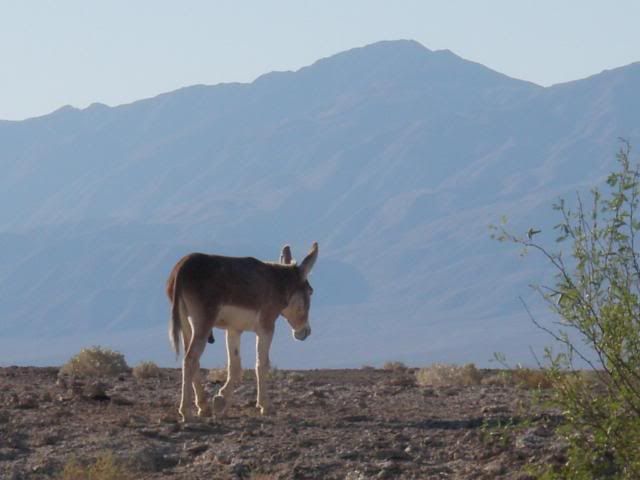 One morning we went for a morning walk to the nearby airstrip. Love that clean desert air.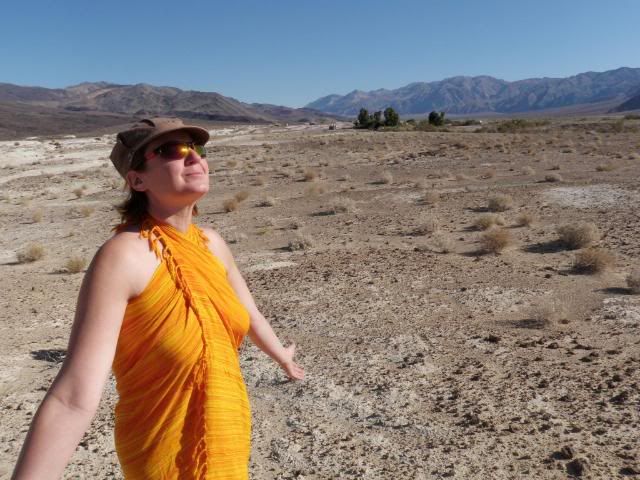 It makes you get naked and crazy! (these shots have been sanitized for Roz's dad and our red state viewers)

There are less shady springs a half mile up the road, which aren't as crowded…

…but the main springs have nicer showers and facilities. Avert your eyes!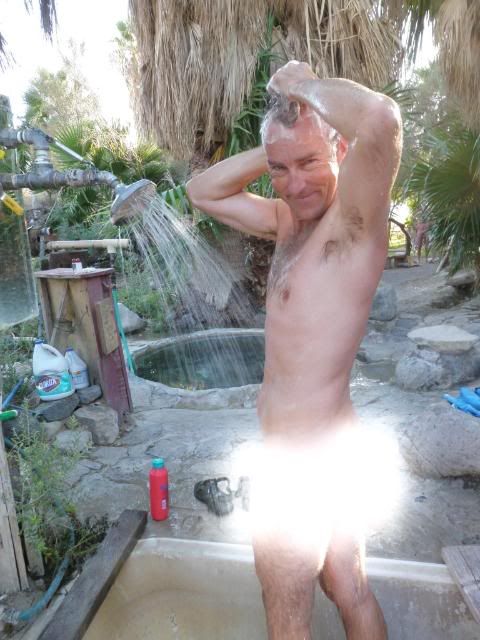 ATGATT naturalist style.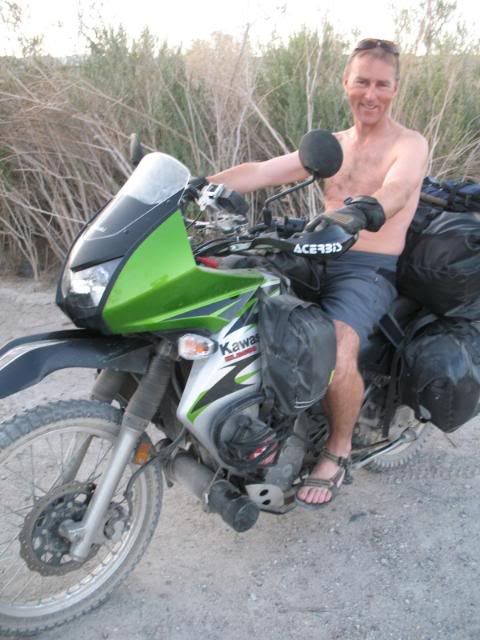 While we could have stayed there forever, our food supplies were dwindling, so after four blissfull days, we had to leave. We woke up before the sun one day with the best of intentions of hitting the road while it was cool. But, as is often the case during these adventures, that was not to be. Roz's bike wouldn't start. Dang. With the help of a multi-meter and a couple of helpful Bobs (Silver and Plain), we finally diagnosed a broken safety switch on Roz's clutch. I bypassed the circuit, but by the time we hit the road, it was 10 a.m. and it was already HOT. Waving good-bye to our new friends, we motored on, hoping to get out of the hot valley as soon as possible. We were on the rough road for an hour or so when Roz got a flat. Double Dang.
Roz said she saw a big rock and managed to get her front wheel past it, but the rear wheel hit it squarely with a thud. The result: a snake bite puncture where rock met rim. It was now noon with sweltering heat in the high 90s. I put up two tarps for shade – one for me and her bike and another for Roz to make lunch under.
It's a dry heat.

It was hot, sweaty work, but I was glad I had practiced spooning off tires in the comfort of home before the trip. The desert is no place to learn how to change tubes. After a couple of hours, the job was done, I had eaten and Roz had catnapped. I could see she was in rough shape with the heat so I suggested that we wait in the shade a while, but she just wanted to get back on the road. The air would cool her down once she got moving and the focus of riding would keep her mind off the heat.
We got back on our bikes and sure enough, the airflow through our mesh was immediately refreshing. After another hour of rough valley road, we began to ascend out of the valley in a series of switchbacks. Sand in the road had challenged us earlier, but we had managed to motor through it. Then Roz met sand in a corner and almost hit a rock wall. Once again she managed to save it and stay upright, but it had shaken her confidence. This day had been the biggest challenge yet for Roz and I knew she wasn't enjoying it. That saddened me, because I was having a blast. Even the flat tire had been a stangely enjoyable challenge, but we all face adversity in different ways. I reminded myself that I had been riding for thirty years and Roz for only one. I couldn't imagine me doing a trip like this when I started. (ROZ: Interestingly enough, after Trond had fixed my safety switch problem earlier that day, Silver Bob had reminded us that "the difference between adventure and adversity was attitude". True enough, but this was starting to feel like an "adventuristy" to me and my good/bad attitude reflected that. Plus, seeing Trond coping like the warrior he is and smugly smiling through it all only annoyed me more! Aaaaaarrgghhh!)
Out of the Saline Valley, we celebrated the view of the breathtaking Panamint Valley.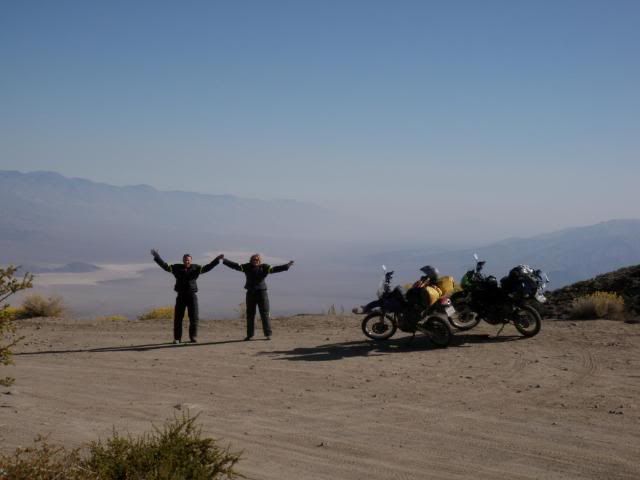 Roz motoring on, accompanied by Joshua trees on either side of the road.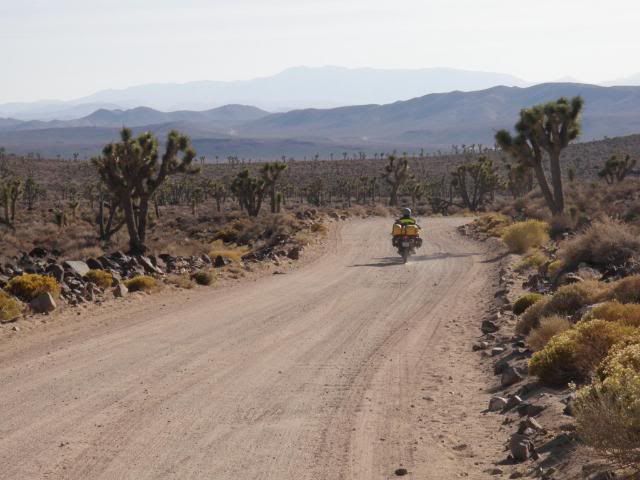 We talked a lot on the comms as we made our way towards the blessed paved road of Hwy 190. Roz was having doubts about being able to do this all the way down to South America. When we first discussed this trip, she wanted to do it by four-wheel drive, whereas I wanted to motorcycle. I won the debate, but now my victory was coming back to haunt me. If she was never 100% into doing it by motorcycle, should I have pushed my agenda? My heart was sinking with the awareness of where this might be headed. I told her we didn't have to make any decisions now.
Pavement finally saved the day and, after airing the tires back up, we headed east to Panamint Springs. We found a campground and restaurant and called it a day. We both devoured huge hamburgers. It's hard to believe that Roz used to be a vegetarian, but a day like this can build up anyone's appetite. As we sat eating, Roz began to quietly cry. She had gone through the ringer and was spent. She apologized (how Canadian), but I had to remind her that it had been my idea to stick her on a bike. The camping trip a year earlier in no way prepared her for what was to come. How could she know what it was like to ride a fully loaded bike around trucks, towering bridges and grinding dirt roads. The fact of the matter is, motorcycle touring is hard – physically, mentally and emotionally. This was no pool-side vacation in Puerto Vallarta. (ROZ: For the record, that hamburger was my first meal of the day – not counting a power bar at 8:00 a.m. – and I was crying for the life of the delicious animal I was so thoroughly enjoying. The tears of a guild-ridden meat-eater … okay, and a completely exhausted person who had been challenged more in one day than some people are in a lifetime – at least that's what it felt like to me. Whaaaaaa….)
I then suggested that there was no reason we couldn't switch to one bike if she still wanted to travel that way. We'd see how it went the next couple of weeks and, before we crossed into Mexico, we would decide what to do. That picked her up and took off some of the pressure.
The following morning, we rode to Furnace Creek and set up camp. The next few days were spent exploring Death Valley two-up on my bike. One day we went to Scotty's Castle, a smaller, less gaudy version of William Randolph Hearst's Sam Simeon castle. It was a a beautiful piece of architecture and well worth the tour that brought to life some of the rich history and colourful characters of the place. On the way back we stopped at the Ubehebe Crater. There was a super strong wind at the top of the crater, which added to the whole "other-wordly" feel of the crater. Since rain was forecast for the next couple of days (yes, Death Valley can get up to a whopping 2 inches of rain per year), we decided NOT to explore any of the cool canyons in case flash floods swept us away. Instead, we just relaxed and took it easy.
Our camp at Furnace Creek.

A Road Runner in our camp. Not as big as the cartoons suggest, but just as fun to watch when they run.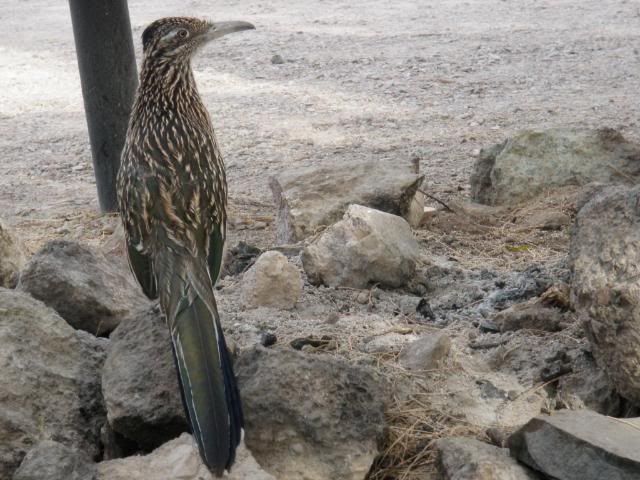 Near the Furnace Creek airfield.

Scotty's Castle.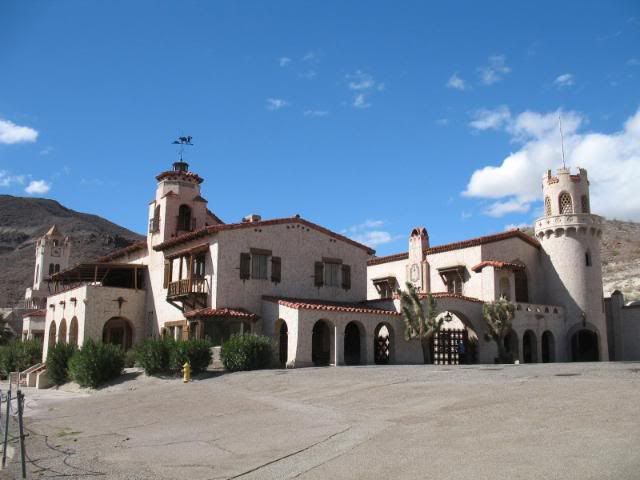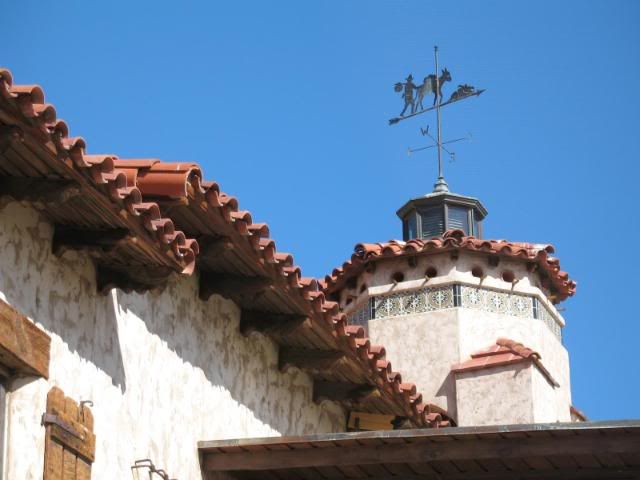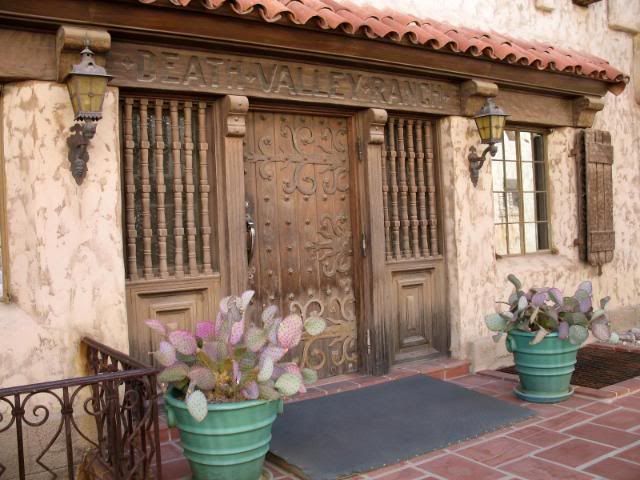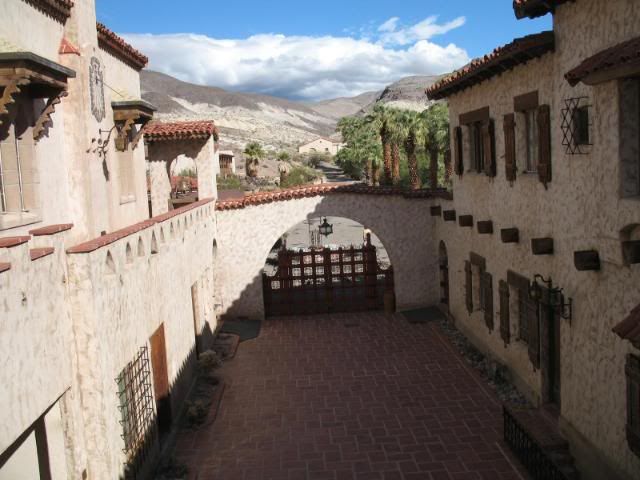 At the Ubehebe Crater, the wind was howling.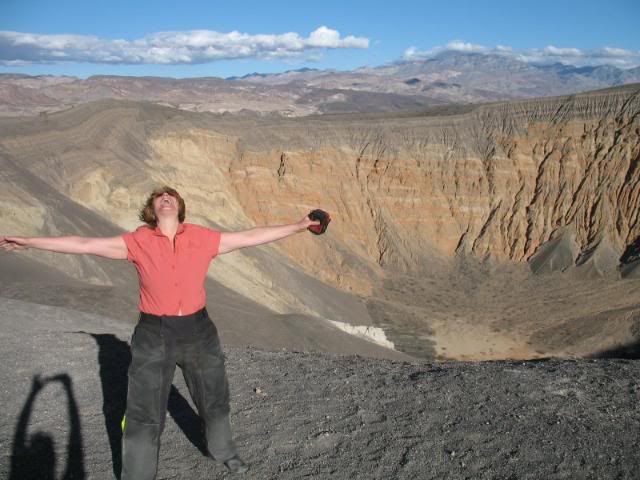 And she calls me a ham.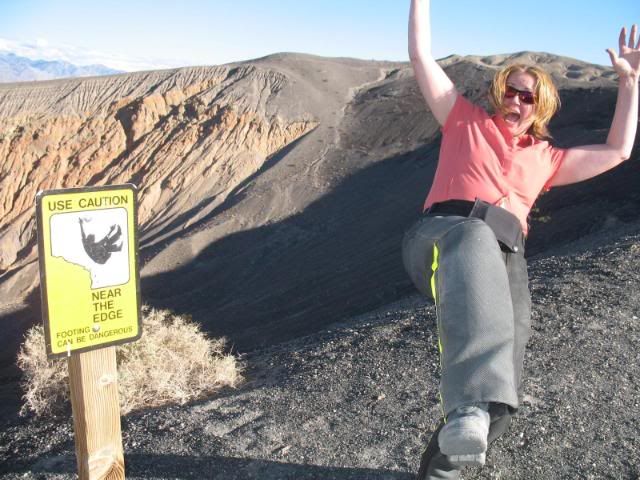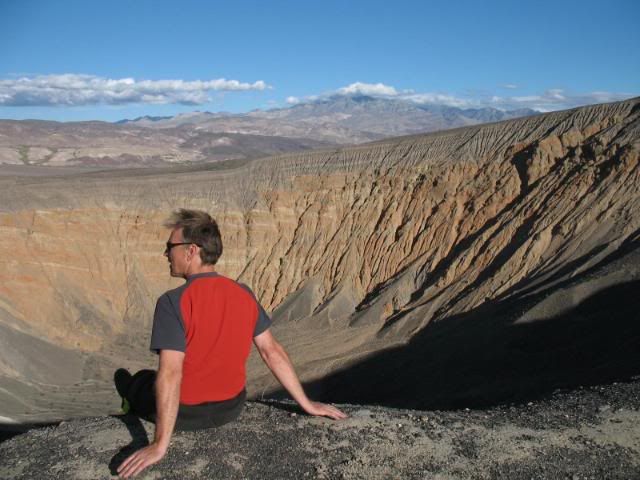 The ride back to our camp was stellar.

On the day we left Death Valley, we woke up before sunrise to ride two-up to Dante's View. We stopped at some other spectactular landscapes (Twenty Mule Team Canyon, Zabriskie Point) before heading back to camp, loading up, and heading south.
Dante's View at dawn.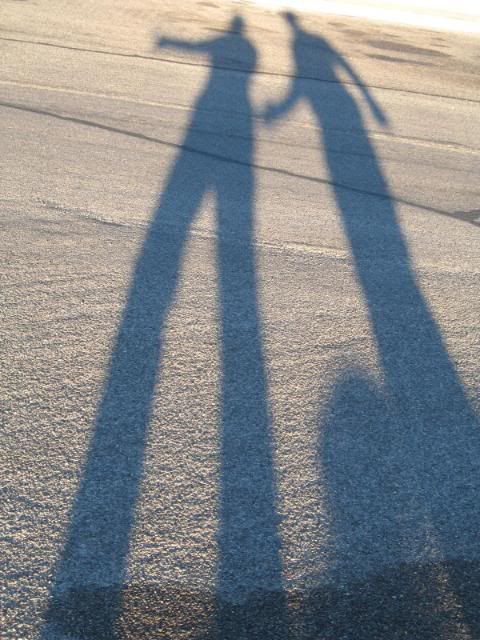 Twenty Mule Team Canyon was like riding on the moon.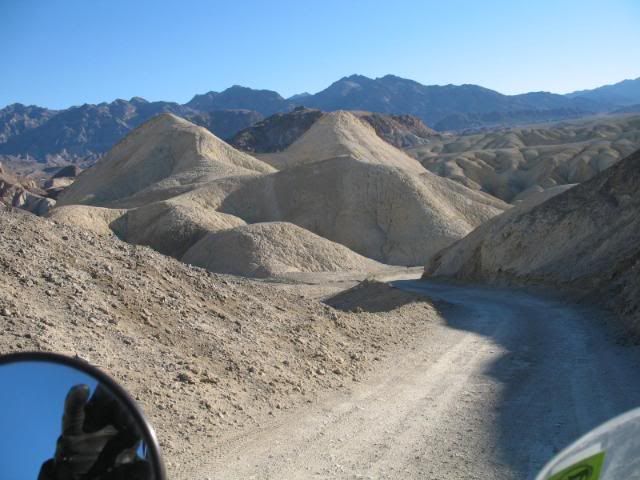 The views at Zabriskie Point were just as mesmerizing.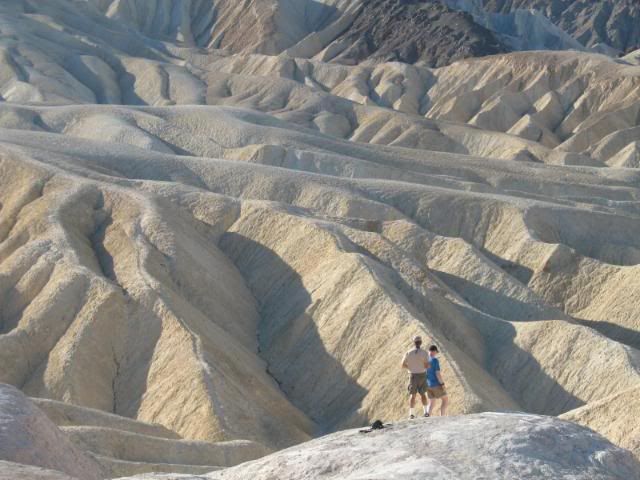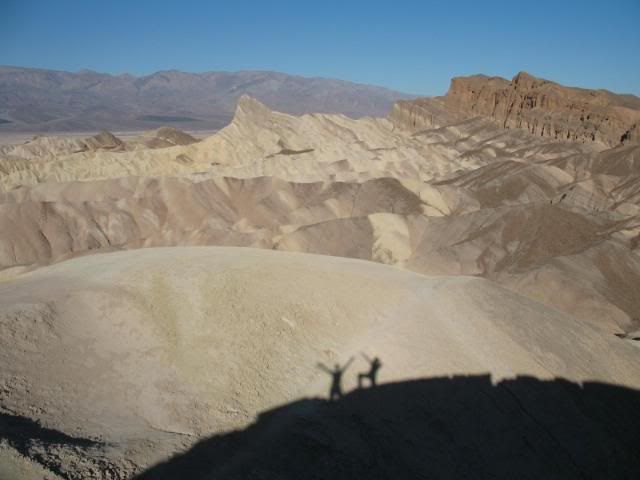 On the ride out of the park, we stopped at the Devil's Golf course, an awesome lunar-type landscape with an extremely rough surface of large salt crystals. I didn't read the sign which warned of hurting yourself if you fell and, while posing for a self-timed photo, I fell. Groan. Getting hurt sucks. Good thing I had on all my Kevlar/quad armour gear or I may have injured myself even worse.
The Devil's Golf course.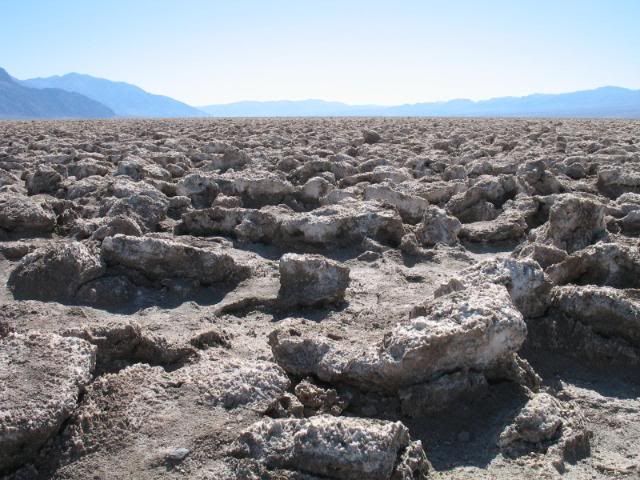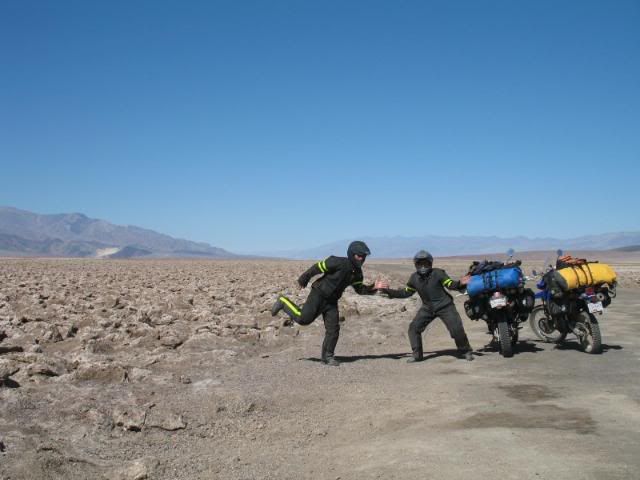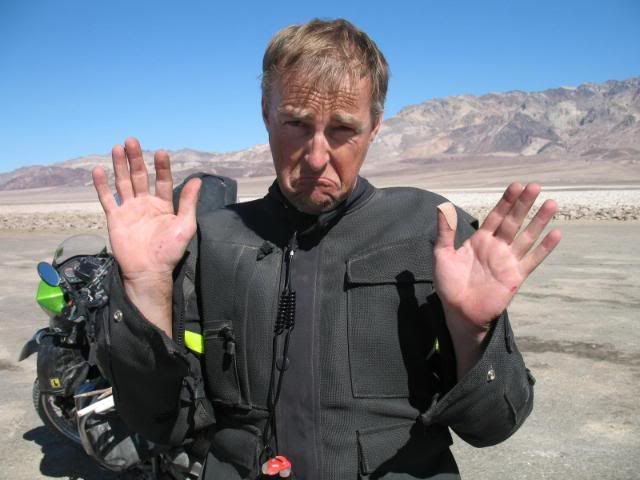 Next stop was Natural Bridge Canyon (the name kinda says it all).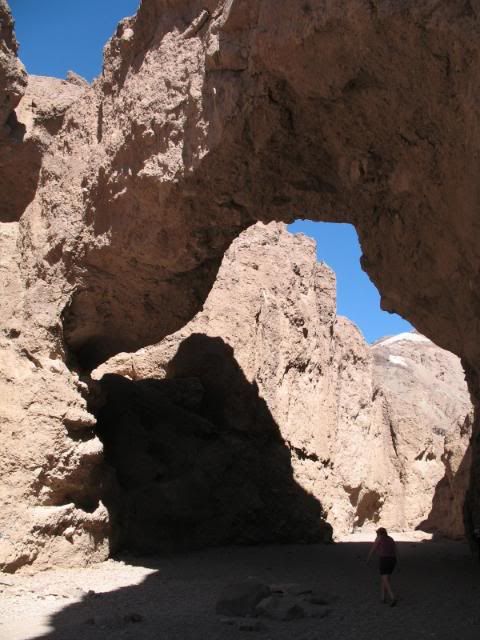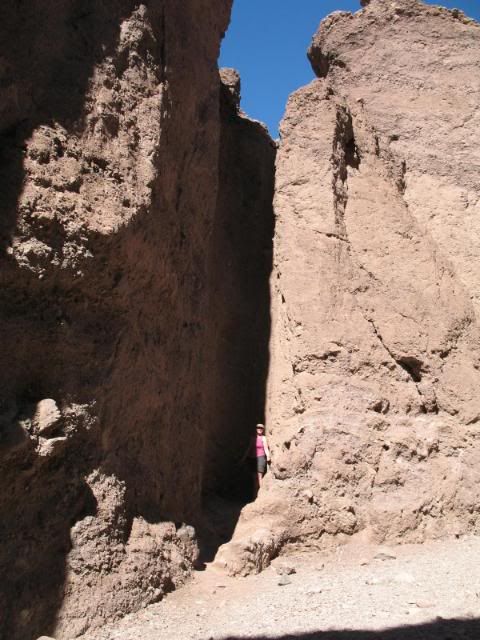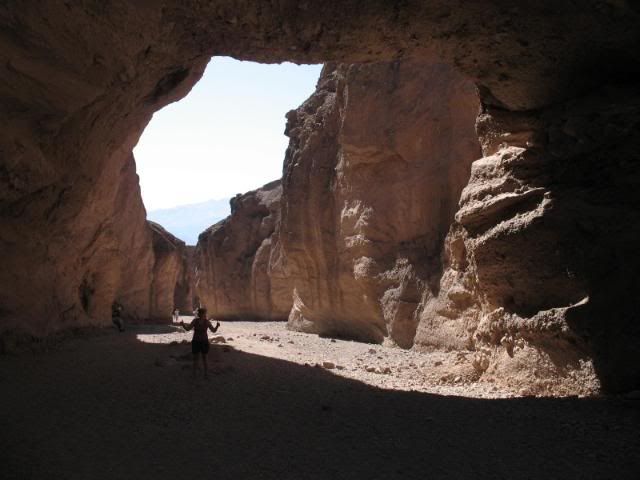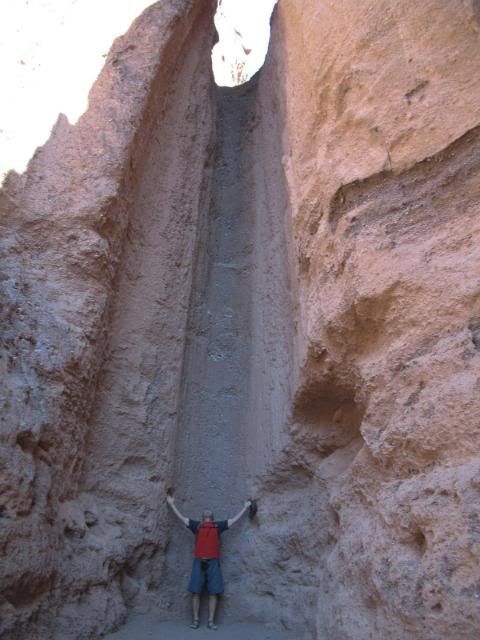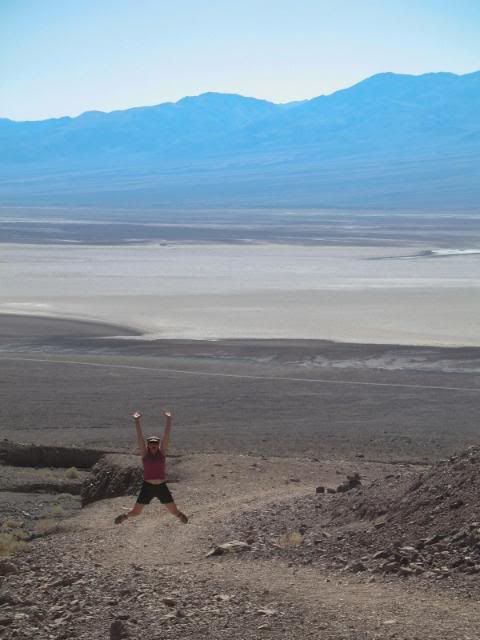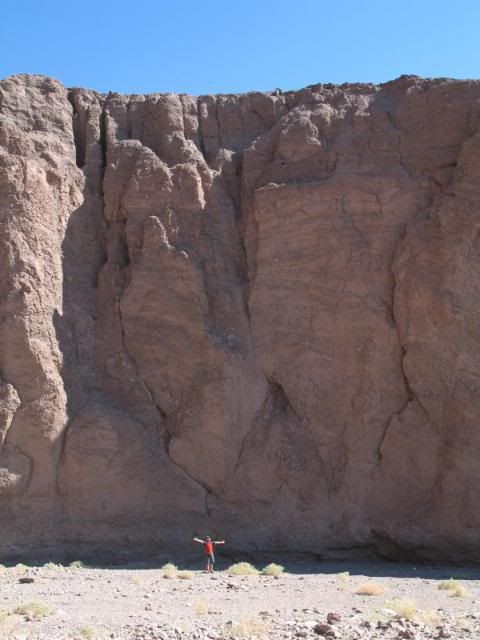 Final stop was Badwater, the lowest point in the United States. Very HOT!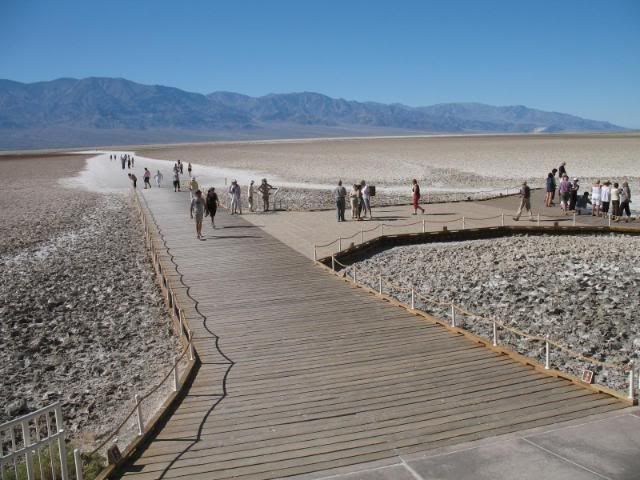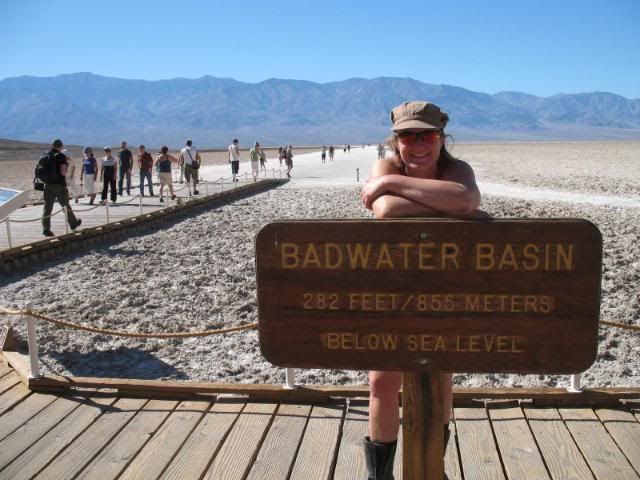 We departed Death Valley thoroughly enchanted, vowing to return another day. It's a truly magical place.

END PART 4